Iran: "voices other than those of the regime are brutally suppressed"
As Iranians commemorate Journalist's Day, Minister for the Middle East Alistair Burt talks about the ongoing oppression of civil liberties in Iran.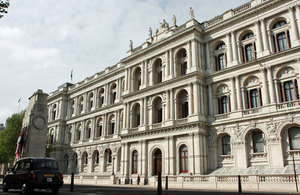 In his latest blog, he said:
"33 journalists and bloggers in prison. Over 60 journalists forced into exile since 2001. More than 40 publications banned since June 2009. An estimated 3,000 journalists out of work. Over five million websites blocked and international satellite broadcasts jammed. Today Iranian journalists mark national journalist's day. Yet congratulatory headlines, gifts from employers and rousing speeches from government leaders can't compensate for harassment, imprisonment and pervasive censorship.
…Far from building bridges of cultural understanding, the Iranian authorities have demonstrated ruthless determination to cut their people off from all outside contact. An estimated five million websites are blocked from Iranian eyes. International satellite broadcasters providing news or light entertainment are routinely jammed. Foreign journalists are largely excluded from the country. While acknowledging the importance of books, Iran's Supreme Leader recently told publishers that Iranians should not be free to choose themselves what to read, in case they drifted into reading 'harmful' books. Iranian journalists must contend with a deep hostility towards the principles of free access to information."
Published 8 August 2011