Foreign Office Minister Alistair Burt condemns atrocity in south-eastern Iran.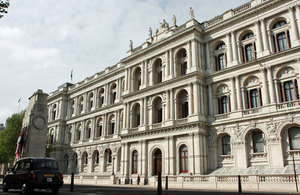 Speaking about the attacks at the Jamia mosque in the city of Zahedan in south-eastern Iran, Mr Burt said:
"I was horrified to hear of yesterday's twin bomb attacks against a mosque in Zahedan in Iran, which has been claimed by Jundullah. The UK strongly condemns this atrocity. In targetting a busy mosque, the bombers claimed the lives of peaceful worshippers and passers by. Our thoughts are with the families of those who have lost their lives so far, and the many more injured."
The Provincial Government has reported 22 people dead and over 160 injured so far.
Search the news archive
Published 16 July 2010