Press release
Investment and jobs growth on Yorkshire Day
Government investment in a Rotherham start-up company announced, which will boost growth in the area and create new jobs.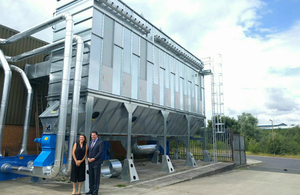 Northern Powerhouse Minister, Andrew Percy, today (1 August 2016) announced government investment in a Rotherham start-up company, which will boost growth in the area and create new jobs.
On a visit to the site of the new BA Clic factory, the minister pledged £440,000 funding on behalf of the Sheffield Local Enterprise Partnership (LEP), as part of a total overall investment of more than £3 million.
This inward investment will create a minimum of 40 jobs and secures the go-ahead for a new factory to enable BA Clic to develop and manufacture a new range of products targeting the kitchen and bedroom furniture industry.
Northern Powerhouse Minister, Andrew Percy said:
The investment is great news on Yorkshire Day and vital to help companies such as BA Clic get new factories and businesses up and running – driving growth and creating jobs.

This government remains committed to rebalancing the economy through creating a Northern Powerhouse, by devolving power to those on the ground and giving them the tools to get on with the job.
With overall Growth Deal funding of nearly £300 million and £65 million in Regional Growth Fund money, the Sheffield City Region LEP is investing in projects such as Markham Vale Enterprise Zone, establishing an Inward Investment Team and supporting other start-up companies in the region.
Chairman of the Sheffield City Region LEP, Sir Nigel Knowles:
It is great news that Andrew Percy is here in Sheffield City Region to mark Yorkshire Day and within his first couple of weeks as Northern Powerhouse Minister.

This comes just days after he signed-off the legislation to put in place a mayor in our city region which is another step to making our unique devolution deal a reality. I would like to thank him personally for this swift and unequivocal act.

This deal brings decision-making for our economic future closer to the residents and businesses within the region - one pot of £1.3 billion. This ensures continuity for our private and public sector partners, and the ability to plan ahead to ensure that the whole region flourishes for SMEs (small and medium-sized enterprises), family companies and some of the world's largest corporations - all of whom contribute to our ongoing success.

It is exactly this continuity and certainty that the deal offers that enables me to announce our £440,000 investment in BA clic which will create 40 jobs and £2.5 million of private sector investment to support onshoring of production in this innovative, Rotherham-based SME which manufactures kitchen components.

Our special devolution deal makes investments like this possible as we secure a more predictable future for the region against which we can plan and deliver growth and a strong economy in vibrant communities.
The Unlocking Business Investment programme, run by Sheffield City region has already succeeded in generating £200 million of direct investment, resulting in nearly 2,500 jobs.
Office address and general enquiries
2 Marsham Street
London
SW1P 4DF
Contact form http://forms.communiti...
General enquiries: please use this number if you are a member of the public 030 3444 0000
Published 1 August 2016