News story
Inventory of radioactive wastes and materials in UK updated
The 2016 UK Radioactive Wastes and Materials Inventory (the Inventory) is updated every 3 years to provide the latest national record on radioactive wastes and materials in the UK.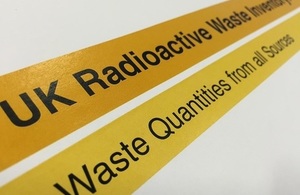 The Inventory is part of an ongoing programme of research jointly conducted by the Department for Business, Energy and Industrial Strategy (BEIS) and the Nuclear Decommissioning Authority (NDA).
The Inventory provides information on the status of radioactive waste stocks (at 1 April 2016) and estimates of future radioactive waste arisings in the UK.
Information collected for the 2016 Inventory is presented in a series of reports:
Context and methodology report
UK radioactive waste inventory report
Radioactive wastes and materials not reported in the 2016 UK Inventory
Summary of data for international reporting
A summary of the 2016 Inventory
All documents have been prepared on the basis of information supplied to the 2016 Inventory contractors.
UK Radioactive Wastes and Materials Inventory website
Published 3 April 2017