News story
Introducing the Open Call for Innovation
From 3 July 2017, the Enduring Challenge will be known as the Open Call for Innovation. This change is first of several planned changes for this funding route.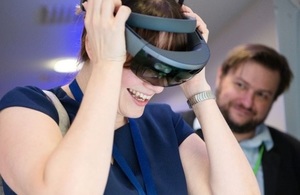 The Open Call for Innovation will continue to provide a route into defence and security for any supplier who thinks they have an idea that can benefit UK Defence and Security, at home or abroad. It exists because we can't possibly know all the potential solutions and novel approaches out there - whether that's more advanced technical capability, how we work or operate, or how we train our people. As well as all our existing suppliers, we want to attract those who haven't worked with defence and security before.
Funding rate improves
Earlier today, we held the final decision conference for the Enduring Challenge. We're delighted that 21% of proposals were approved for funding from cycle 3. The decisions have been released in the Accelerator submission service and the successful winners should be on contract within 3 weeks. Those who were unsuccessful will receive feedback by the end of July.
Since its launch in January by Harriett Baldwin, Minister for Defence Procurement, the Enduring Challenge has held 3 decision conferences to assess 83 proposals. 12 applications (14%) were approved for funding and received an average of £82,600 in research funding.
Cycle 4 is currently in assessment. Cycle 5, under the new banner of Open Call for Innovation is open.
Published 29 June 2017