World news story
International Women's Day
"Violence against women and girls remains one of the most widespread human rights abuses" – John Rankin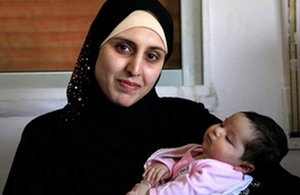 The promotion and protection of human rights is at the very heart of UK foreign policy and women's rights and equality – in particular, the prevention of violence against women – is a crucial element of this. British High Commissioner to Sri Lanka and the Maldives, John Rankin, issued the following statement to mark International Women's Day on Saturday, 8 March, 2014.
"International Women's Day celebrates the work carried out by women's rights activists across the world to empower women and to ensure rights equal to those of men. This day also reminds us that many women in many communities around the world do not have those rights. Discrimination and violence against women and girls remains one of the most widespread human rights abuses. Tackling this issue is a priority for the UK and central to our work to advance gender equality and empower women.
Violence against women – particularly sexual violence in conflict and post-conflict situations – is a particular cause for concern. Sexual violence has marked every conflict in our lifetime and shattered the lives of women and girls in every continent. More worryingly, the culture of impunity that exists in such situations has all too often led to these crimes being treated as secondary issues and inevitable consequences of war. Only a small percentage of perpetrators of sexual violence have been brought to justice. There is much more work to be done to ensure justice and this is what the UK hopes to achieve through our Preventing Sexual Violence Initiative championed by Foreign Secretary William Hague.
All countries, including the UK, need to work hard to ensure gender equality and end violence against women, particularly domestic violence. In the UK, while women enjoy the same the same legal status and rights as men under family law, labour law, property law, and inheritance law, our Equalities Office works to ensure these rights are realised in practice – at work, in public and political life and in other opportunities. Tackling sexual and domestic violence is headed by our Home Office, which has recognised the problem and is actively trying to prevent its recurrence and educate the public about it.
I know that in Sri Lanka also, women play an increasingly prominent role. We recognise the progress that has been made in this area, especially in the main cities and towns. Women are in positions of responsibility and prominent in many spheres of activity. At the same time Sri Lanka's long conflict has given rise to some 89,000 war widows – often, the heads of their households – who are more vulnerable to discrimination and violence. We strongly encourage the Sri Lankan government to sign the UN Declaration of Commitment to End Sexual Violence in Conflict and join our international campaign, which is making encouraging progress worldwide.
The UN theme for International Women's Day is "Equality for women is progress for all". No truer theme has been chosen. As long as violence and discrimination continue, our efforts to achieve global security and development will be undermined, affecting not just millions of women and girls worldwide, but also men and boys. Promoting and ensuring women's rights builds a balanced society; a society where women have a voice, a presence, rights and the power to shape their lives and control the decisions that affect them."
Published 10 March 2014