Press release
International Protocol on Sexual Violence in Conflict launched in Kurdish
Baroness Anelay applauds another step forward in combating sexual violence in conflict in the Kurdistan Region with translation of International Protocol on Investigation and Documentation.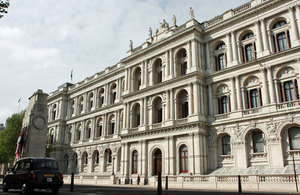 The Kurdish translation of the International Protocol will be launched in Erbil on 19 April 2016, followed a day later by an event hosted in London by Baroness Anelay, the Prime Minister's Special Representative on the Preventing Sexual Violence in Conflict Initiative.
During a visit to the Kurdish Region of Iraq in November 2015, Baroness Anelay met with representatives from the Kurdistan Regional Government where she highlighted the challenges the international community faced in eradicating all forms of sexual violence. The Minister also met with survivors of sexual violence and saw firsthand the trauma that this horrific crime inflicts upon innocent people. Following this visit, Baroness Anelay called for the translation of the Protocol into Kurdish to support the ongoing work already in place to support survivors.
The Protocol sets out the basic principles for the collection, documentation and storage of evidence and information of sexual violence as a crime under international law. While the Protocol is not legally binding, it provides guidance on how to document and investigate sexual violence and rape and helps promote accountability under international law.
Following the launch Baroness Anelay said:
I am delighted to announce the Kurdish language version of the International Protocol on documentation and investigation of sexual violence in conflict. We must all do more to tackle sexual violence in conflict, support survivors, and strengthen national and international accountability structures.

I hope this will contribute to the significant groundwork already being made in the Kurdistan Region and help to end impunity for crimes of sexual violence.
The Secretary General of the Kurdistan Regional Government's High Council of Women Affairs, HE Pakhshan Zangana said:
I thank the British Consulate for translating the Protocol into Kurdish. The people of the Kurdistan Region of Iraq have suffered much brutality at the hands of Daesh, including crimes of sexual violence. This Protocol will help ensure that those responsible for crimes of sexual violence are held accountable and that survivors get justice.

The Kurdistan Regional Government is committed to ending the stigma suffered by victims of sexual violence. We hope to work together with NGOs and the international community to implement the Protocol and tackle sexual violence in conflict.
Further information
Published 19 April 2016