World news story
International Festival of Business 2014
The International Festival of Business is to take place from 9 June to 22 July 2014 in Liverpool City Region, United Kingdom.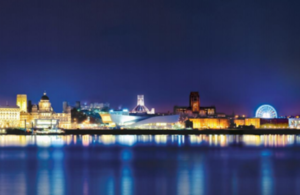 The inaugural International Festival for Business (IFB) will be the UK's most significant international trade and commerce showcase since 1951, and the biggest concentration of business events globally in 2014.
It aims to attract more than 250,000 visitors from more than 100 countries across 50 days during June and July 2014, and hosted in the Liverpool City Region, the IFB will comprise over 100 business-focused events, underpinned by a major cultural programme. Click here to access the full list of events visit
The International Festival for Business 2014 has also launched the free IFB Business Club, through which members can enjoy free access to a wide range of fantastic facilities and high value services during the 50-day festival. You can register now to join the IFB Business Club and take advantage of these unique and free business opportunities by visiting
The festival nerve-centre, the IFB Hub, is located at Liverpool's iconic and historic waterfront and is the place where the many benefits of IFB Business Club membership will be accessed.
Members will have the unique opportunity to gain valuable business advice via one-to-one appointments and business brokerage sessions with specialists in particular sectors and markets.
In addition to gaining access to business brokerage sessions, IFB Business Club members will enjoy a host of festival facilities, including IFB programme information, access to transport links, free Wi-Fi, free hot-desk facilities and meeting spaces, use of an IFB trading floor, an ongoing programme of free trade, investment and market and sector events.
IFB Business Brokerage One of IFB 2014's prime objectives is to foster new business relationships and opportunities that may lead to direct commercial trade and investment outcomes for UK companies of all sizes, across all sectors. The IFB 2014 team have created a number of mechanisms to facilitate matching up potential customers, suppliers and investors both before and during IFB 2014. This service is called IFB Business Brokerage and is free of charge. Opportunities available include: • Numerous individual IFB 2014 events with an explicit focus on 'meet the buyer' (both UK and international) and on brokering new B2B contacts, e.g. UKTI's seven target market events focusing on Africa, Benelux/EU, China/Hong Kong, India, Latin America, South East Asia and the US • The opportunity to network with trade delegations and international buyers from around the world at the IFB Hub and associated introductions to potential international investors and supply partners • B2B meeting slots with senior buyers from more than 20 of the largest corporates in the UK • UK and international business opportunities "bulletin board"
Click here for full details of the free International and UK Business Brokerage service available to IFB Business Club members.
For further information related to Centralised hotel bookings by the festival organisers click here. (PDF, 1.73MB, 7 pages) .
Published 3 April 2014