International Festival for Business 2014 and UK Trade & Investment
The International Festival for Business (IFB) will be the UK's most significant international trade and commerce showcase since 1951.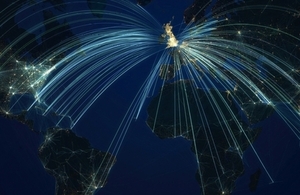 It will be the biggest concentration of business events globally in 2014, attracting more than 250,000 visitors from more than 100 countries across 50 days during June and July 2014. Hosted in the Liverpool City Region, the IFB will comprise well over 100 business focused events, underpinned by a major cultural programme.
It will run from 9 June to 22 July 2014.
UK Trade & Investment (UKTI) have partnered with the IFB and are hosting a number of events over the summer. The festival is a key part of the government's ambition to:
promote economic growth
rebalance the economy
double UK exports by 2020
It is an outstanding opportunity for businesses to forge new international commercial partnerships and meet their global network on their own doorstep in and around the host city of Liverpool.
The UKTI contribution is on 5 levels:
The British Business Embassy event (BBE)
The BBE took place on the 9 June in St Georges Hall in Liverpool and was the opening event for the festival.
IFB Business Club
The IFB have access to all delegate lists and every delegate will offered free Business Club status. Business Club status will give the delegate free access to the International Hub (see below) and to a package of support that will (where appropriate) include the offer of a package of UKTI support:
free export health check
market selection service
business opportunities service
special package of support for new export companies
discounted overseas market research
entry onto an export development programme
expert mentoring
opportunity to join subsidised overseas trade missions/exhibitions
entry into an export competition (prize ceremony at the end of the festival)
Any UK delegate who meets our criteria for support will be offered a meeting with an International Trade Adviser (ITA).
The International Hub
There will be an International Hub for the Festival in a modern building on the iconic Liverpool Waterfront. The Hub will have event space and most of the UKTI events will take place in the Hub. There will be an 'International Trading Floor' with a fully IT equipped Overseas Buyers Lounge, meeting rooms, refreshments points and room for a range of support organisations to take space to provide guidance and support to UK SMEs using the Hub. UKTI will have the central stand in this area.
All International Festival delegates will have access to the International Hub and on registering to the Business Club on the website will automatically be offered a free 'matchmaking' service whereby they can identify other delegates who may be potential clients and book 1 to 1 appointments in the meeting rooms or Overseas Visitors Lounge. Delegates will also be able to request appointments with the advisers on the 'Trading Floor'.
UKTI Events
In addition to the opening BBE and a UKTI presence at the closing event/dinner on 22 July, UKTI nationally are committed to running 16 events over the 6 weeks of the festival, 8 sector events and 8 country events.
You can view photos from these events in the UKTI Flickr album.
British Business Embassy
Leading business men and women from across the UK spoke at the British Business Embassy in Liverpool on 9 June 2014. Representing the best of British business to an international audience, they discussed the global challenges and future opportunities for the automotive, aerospace and manufacturing sectors.
Speakers included:
David Cameron
Ana Botín - CEO Santander UK
Mark Elborne - CEO GE UK
Ron Dennis CBE - CEO and Chairman, McLaren
Jim O'Neill - Chairman of Cities Growth Commission
Steve Varley - Ernst & Young, UK Chairman, Regional Managing Partner UK & Ireland
Sir Terry Leahy
Luis Alvarez - CEO BT Global Services
See more about the event including video highlights from the day.
Published 25 March 2014
Last updated 20 June 2014
+ show all updates
Updated British Business Embassy information

Links to event registration pages added

Updated events details

First published.