Government response
International Development Secretary responds to UN Syria Appeal
Justine Greening welcomes today's UN appeal for humanitarian aid to Syria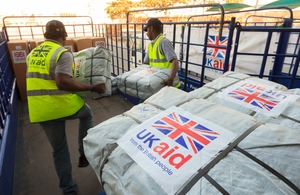 The United Nations has launched the largest appeal in its history - seeking $5 billion for humanitarian aid to Syria.
Responding to the appeals launched today, International Development Secretary Justine Greening said:
"In January the world came together in Kuwait to show ordinary Syrians in desperate need that they have not been forgotten. The response then was impressive, but as this crisis continues it is clear that even more is needed.
"The UK has been at the forefront of the humanitarian response in Syria and our £114m funding for previous UN-led appeals has already helped to provide food, medicine and shelter to hundreds of thousands of people. Britain has never stood on the sidelines and we are ready to play our role. We will be making further announcements over the next weeks and months, but other donors must also play their part."
Published 7 June 2013