Press release
International Day of Peacekeepers
Foreign Office Minister Mark Simmonds pays tribute to the dedication of UN peacekeepers in conflict-affected states.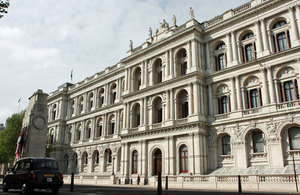 Speaking today Foreign Office Minister for Conflict Issues Mark Simmonds, said:
On the International Day of Peacekeepers, I pay tribute to over 95,000 UN personnel from 122 countries currently serving in 16 peacekeeping missions worldwide. The British Government is proud to thank the men and women of UN peacekeeping for the essential role they play in protecting the most vulnerable people. Without their presence, their dedication and determination, many more people would face displacement, sexual violence, destruction of their livelihoods and their communities, and other devastating impacts of violent conflict.

I honour the sacrifices made by peacekeepers who have died or been injured protecting others, including members of the UN-Africa Union mission (UNAMID) team in North Darfur this week.

The UK is strongly committed to supporting the UN's vital contribution to world peace and stability, including through our Preventing Sexual Violence Initiative. At the London Summit next month we will explore the role of the UN, including peacekeepers, in efforts to end the use of rape as a weapon of war worldwide.
Further information
Find out more about International Day of Peacekeepers
Follow Foreign Office Minister Mark Simmonds on twitter @MarkJSimmonds
Follow the Foreign Office on facebook and Google+
Published 29 May 2014