International Day in Support of Victims of Torture
Foreign Office Minister for Human Rights Jeremy Browne says torture is an affront to Human Rights.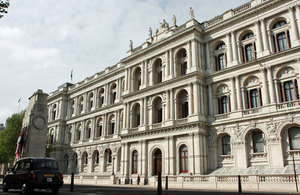 The Minister for Human Rights said:
"Twenty-five years ago today, the world came together to bring into force the UN Convention Against Torture. Torture is an affront to Human Rights and the UK will not waver from our determination to combat it wherever and whenever it occurs.
"I urge states to make their commitment to eradicating torture by signing and ratifying the Convention Against Torture and its Optional Protocol. We call on states to fulfil the obligations in these treaties by investigating all allegations of torture promptly and transparently so that justice can be delivered to victims and their families and allowing independent monitors into places of detention so that torture can be prevented.
"The UK will continue to work tirelessly to combat torture, through our own initiatives and through international efforts, as stated in the FCO Strategy for the Prevention of Torture. These include ensuring that legal frameworks to prevent and prohibit torture are being enforced; encouraging states to take the steps needed to prevent and prohibit torture; and helping organisations on the ground to develop the expertise they need to prevent torture."
Published 25 June 2012