International Day for Elimination of violence against Women
Statement from Sir William Patey, British Ambassador to Afghanistan to mark International Day for Elimination of violence against Women, 25 November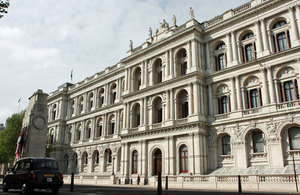 The position of women in Afghanistan has improved significantly over the last ten years. But today, on the International day for the Elimination of Violence against Women, we must recognise that significant challenges remain. While recognising progress, recent reports by UNAMA and AIHRC highlighted the extent of the remaining challenges, and the violence still faced by many women and girls here.
The UK is committed to working globally to eliminate violence against women. In Afghanistan we are working closely with the Government to help it to implement its national and international human rights commitments, including the Elimination of Violence Against Women law and the UN Convention on the Elimination of All Forms of Discrimination Against Women. We also work with local and international NGOs, civil society organisations and international partners to encourage the Afghan Government to fulfil its Kabul Conference commitments and to include gender equality work in each of the National Priority Programmes that it is drafting.
The UK's National Action Plan on United Nations Security Council Resolution 1325 contains a specific country plan for Afghanistan. This sets out how our defence, diplomatic and development efforts in Afghanistan will reduce the impact of conflict on women and girls and promote their inclusion in conflict resolution. So far our work under this plan has included: support for legal aid centres for Afghan women and children; and financial support for the UN's Elimination of Violence against Women Special Fund. We also continue to provide support to Afghanistan's Independent Human Rights Commission.
To mark this important day and to draw attention to the fight for elimination of violence against women, the British Embassy is an official partner for the EVAW ribbon campaign run by the US Embassy in Kabul. The purple ribbon has come to symbolize the fight against gender-based violence worldwide. I am wearing it today to demonstrate my support.
Search the news archive
Published 24 November 2011