International Criminal Court issues Qadhafi arrest warrant
"The UK will continue to strongly support the ICC and calls upon the Libyan government to co-operate fully with the ICC investigation."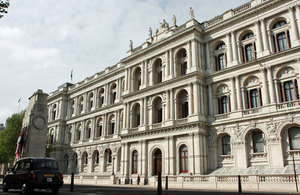 Speaking on 27 June, following the International Criminal Court's decision to issue arrest warrants for Colonel Qadhafi and two others, Foreign Secretary William Hague said:
I welcome the ICC judges' decision to issue arrest warrants for Colonel Muammar Qadhafi, Saif al Islam al Qadhafi and Abdullah al Senussi. These individuals are accused of crimes against humanity and should be held to account before judges in a criminal court. The UK will continue to strongly support the ICC and calls upon the Libyan government to co-operate fully with the ICC investigation.

The warrants further demonstrate why Qadhafi has lost all legitimacy and why he should go immediately. His forces continue to attack Libyans without mercy and this must stop.

Individuals throughout the regime should abandon Qadhafi. We welcome the courageous actions of those who have taken a stance against the regime and recognise the inspiring stories of those who have refused to act against their own people or commit atrocities.
People at all levels of seniority should think carefully about the consequences of what they do - whether they are ordering attacks on civilians or carrying them out; whether they are firing rockets into residential areas or intimidating ordinary Libyans who want a better future. Those involved must take full responsibility for their actions, and must be held to account".
Published 27 June 2011