International community expresses solidarity and renews commitment to Afghan peace process
International Contact Group Working Group on Reintegration reaffirmed their commitment in helping bring peace and reconciliation to Afghanistan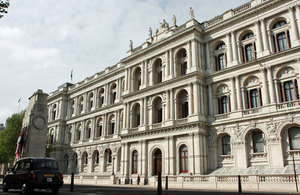 The Working Group on Reintegration, established under the International Contact Group (ICG) met in New York in the margins of the United Nations General Assembly week. The meeting was chaired by Afghan Ambassador Dr Tanin and co-chaired by UK SRAP Sedwill and Japanese SRAP Yamamoto. Representatives from 19 countries and of the UN and OIC participated in the session.
The group held one minute's silence to commemorate the life of Professor Burhanuddin Rabbani, the Chairman of the Afghanistan Peace Council, and the valuable contribution that he had made to the pursuit of peace and reconciliation in Afghanistan. The group condemned in the strongest terms the terrorist attack which had resulted in his death. The group expressed their deep sympathy and sincere condolences to the victims and to their families, as well as to the people and Government of Afghanistan. The group also extended their support and best wishes for a speedy recovery to Mr Stanekzai, the Head of the Afghanistan Peace and Reintegration Programme, who was injured in the attack.
The group reaffirmed their commitment to work together in support of the goals for which Professor Rabbani had worked tirelessly. The important work of the High Peace Council in helping bring peace and reconciliation to Afghanistan will continue. Desperate acts of terrorism will not stop the Afghan people from working towards a peaceful future. At this time, it is important that all of Afghanistan's leaders stand together in solidarity in the face of such attacks and demonstrate their resolve to work in support of peace, reconciliation and national unity. The group reaffirmed their commitment to the Afghan government's programmes to reintegrate all those insurgents who are verifiably willing to renounce violence and terrorism and respect the Afghan Constitution, noting the need to support to their families in order to facilitate this.
The group welcomed the progress in the first year of APRP in reintegrating insurgents under the leadership of the High Peace Council and the Government of Afghanistan, noting the importance of political outreach and conflict resolution to extending the impact of the programme throughout the country and to resolving the plight of refugees. The group underlined the importance of close coordination between local civilian officials, the local security forces and PRTs. The group emphasized the need to secure sustainable and flexible funding for the programme.
The Afghan Government and the ICG Working Group welcomed the OIC's initiative to convene a conference of ulema (religious scholars), as Professor Rabbani had supported. The group highlighted the importance of discussing all these issues further at the Istanbul, Astana and Bonn Conferences, and renewed their commitments to the reintegration process and the long-term stability and development of Afghanistan.
Published 22 September 2011