Intercontinental Hotel Incident
British Ambassador Sir William Patey condemns attack on the Intercontinental Hotel in Kabul.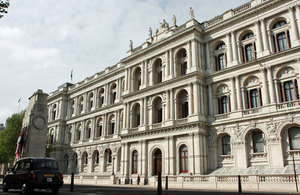 The British Ambassador said:
"I want to echo the Foreign Secretary's condemnation of the appalling attack by insurgents last night at the Intercontinental Hotel. My thoughts lie with the victims and their families at this difficult time. Once again the insurgents have shown their disregard for the lives of ordinary Afghans and for efforts to develop a secure and sustainable Afghan state. The UK strongly supports the Afghan authorities, and its people, as they begin to implement transition, and we must not–and will not–let terror attacks interfere with these efforts.
On behalf of the UK Government I also want to praise the Afghan National Security Forces for their effective handling of the incident. This was a complex attack that had the potential to become far more serious. Direct ISAF support was limited to the deployment of one helicopter. This is further evidence of the progress being made by Afghanistan's security forces as they build up to lead on all security operations in Afghanistan by the end of 2014. We will continue to work closely with partners to support this".
The British Embassy assisted two British Nationals caught up in the incident who are now safe and well in a secure location. We are continuing to work with the Afghan authorities to clarify the details of this incident and stand ready to offer further consular assistance if necessary.
Published 30 June 2011