Press release
Inspiring women in competition policy
The CMA today hosted a breakfast briefing event to promote and support women working in competition policy in the public and private sectors.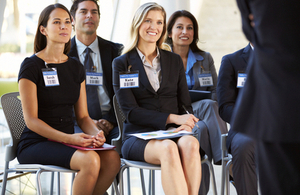 Over 150 people attended the event which included an opportunity for networking and a panel discussion on women in leadership.
Competition and Markets Authority (CMA) Chief Executive, Alex Chisholm, welcomed guests to the event from a wide range of organisations including Slaughter and May, Linklaters, Freshfields, Monitor, the Financial Conduct Authority, KPMG, Monckton, RBB Economics, Compass Lexecon, Arnold & Porter, Cleary Gottlieb, Herbert Smith, Norton Rose, Charles River Associates and Oxera.
The panel discussion was chaired by Sue Hinchliffe, Partner at Arnold & Porter and featured:
Jo Swinson, Minister for Employment Relations and Consumer Affairs and Minister for Women and Equalities
Sarah Cardell, General Counsel, Competition and Markets Authority
Amelia Fletcher OBE, University of East Anglia, Financial Conduct Authority, Ofgem and former Chief Economist at the Office of Fair Trading (OFT)
Laura Carstensen, Cooperative Bank plc, Park Group plc, Equality and Human Rights Commission and formerly a Deputy Chair of the Competition Commission (CC)
Cani Fernandez, Cuatrecasas Gonçalves Pereira
The panel discussed challenges they have faced, their inspirations and achievements, and how they have approached their leadership roles as women.
Equalities Minister, Jo Swinson said:
It is always heartening to see and hear the support available for women who are climbing to the top of their profession. In the past 4 years government has more than doubled the number of women represented of executive boards in the FTSE 100 and this trend must continue. We have talented senior inspirational women already working in many sectors and there is no reason other women cannot follow.
CMA Director of Economics, Kate Collyer, who is an advocate for women in competition policy and organised the event, said:
I am delighted that so many women and men were able to join us today for an honest, funny and inspirational discussion of some of the challenges we all face and how we can bring more women into leadership roles in competition.
The event was organised by the CMA, Compass Lexecon and Arnold & Porter (UK) LLP.
Notes for editors
The CMA is the UK's primary competition and consumer authority. It is an independent non-ministerial government department with responsibility for carrying out investigations into mergers, markets and the regulated industries and enforcing competition and consumer law. From 1 April 2014 it took over the functions of the CC and the competition and certain consumer functions of the OFT, as amended by the Enterprise and Regulatory Reform Act 2013.
For more information on working for the CMA and current vacancies visit our recruitment page.
Enquiries should be directed to Siobhan Allen, (Siobhan.Allen@cma.gsi.gov.uk), or by ringing 020 3738 6901.
Published 5 February 2015