Inspiring the scientists of the future
National Science and Engineering Week runs from the 11 to 20 March.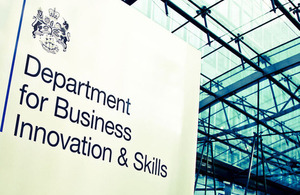 Business Secretary Vince Cable launched National Science and Engineering Week at the 2011 Big Bang Fair in the ExCel Centre in Docklands. He also announced 'See Inside Manufacturing', when the UK automotive industry will throw open it's doors to improve the image of manufacturing and attract young people into careers in science and technology.
Science communication across the nation
The 10 day programme gives people of all ages the chance to take part in different science, engineering and technology events.
The theme for the week is communication, covering all areas of scientific interest from mobile phone and satellite technology to the calls of animals in the wild. Over 4,000 events are planned across the UK potentially involving 3 million people.
The Big Bang
Launched in 2009, The Big Bang is the UK's biggest single celebration of science and engineering for young people and aims to celebrate and inspire them.
Watch Dr. Vince Cable talk about the importance of science and engineering, and of the need to inspire a new generation of scientists:
Vince Cable at the Big Bang Fair
Led by Engineering UK and supported by BIS and major sponsors, the Big Bang Fair hosts the National Science and Engineering Competition and will be visited by schools throughout the region and beyond - with this year over 23,000 expected to attend.
Presenting the awards on 11 March will be the Government's Chief Scientific Advisor Sir John Beddington and TV scientist Professor Brian Cox.
Motorsport and car maunfacturers sign up to open their doors
'See Inside Manufacturing' will see nearly 30 companies throw open their doors in October so that school children and students can get a look behind the scenes at what a career in manufacturing or engineering can offer.
Vince Cable asked UK manufacturers to open their doors for a day to students and teachers to get an insight into engineering and manufacturing careers at the Manufacturing Summit on 25 January. The automotive sector is spearheading 'See Inside Manufacturing' this year, and will be rolled out across the manufacturing sector in 2012.
Companies and organisations supporting the initiative include:
Williams F1
BMW
Jaguar Land Rover
Leyland Trucks
Honda
Michelin
McLaren Automotive
Dr. Vince Cable said:
Young people buy and use the latest gadgets and products but we also need them to think how exciting it could be to design, engineer or make them too.

We want them to 'See Inside Manufacturing' and inspire a new generation of engineers and scientists to create a whole range of new iconic UK based products that are exported worldwide.
'See Inside Manufacturing' will focus on young people to encourage take up of Science, Technology Engineering and Mathematics (STEM) subjects as well as undergraduates considering their future career options. All the activities are being co-ordinated by the joint industry/government Automotive Council.
Links
Press notice: Motorsport and auto manufacturers sign up to open their doors
Published 11 March 2011