News story
Manufacturing Summit to help grow UK industry
The UK's leading advanced manufacturers and Government meet to discuss how to work together to promote manufacturing excellence.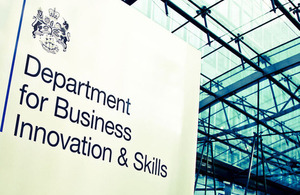 Government and the UK's leading advanced manufacturers met today to challenge the myth that Britain doesn't make anything any more.
While the UK is a world leader in high-tech products - and the latest figures show manufacturing growth has reached a 16-year high - there is concern that an outdated image of the sector is hindering its ability to attract the best talent.
To help address this challenge, the Government has asked UK businesses making cutting edge products to throw open their doors to students and teachers in a week-long national event.
Deputy Prime Minister Nick Clegg said: "I want out young people to see that British manufacturing offers well-paid and rewarding careers. Not many of them will know that many electrical engineers are almost as well paid as lawyers and solicitors.
"Throwing open the doors of our factories to the engineers of tomorrow will show them that the satisfaction of making things is hard to beat."
Deputy Prime Minister Nick Clegg and Business Secretary Vince Cable, duruing a visit to Brompton Bicycles West London factory - ahead of the Government's Manufacturing Summit later in the day:
Business Secretary Vince Cable said:
"I was shocked to hear that a recent survey found 49 per cent of 7 to 11-year-olds think it would be boring to be an engineer. They could not be more wrong.
"That's why Government and industry agree that we have to improve the image of manufacturing if we are to attract the brightest and best into industry.
"Holding a factory doors open week will help us dispel the myth about engineering jobs, and show they are challenging, exciting and well paid."
Low carbon manufacturing at BIS
The fourth of BIS's exhibitions showcasing low carbon manufacturing was unveiled at BIS, 1 Victoria Street, to launch the summit.
Hear Mark Prisk and exhibitors at the exhibition explain the importance of UK manufacturing:
Exhibits demonstrating how the UK is a world leader in manufacturing include:
Manufacturing and Growth
In November 2010 the Government launched the BIS and HMT Growth Paper which set out a programme of actions to enable sustainable, balanced growth in the UK economy. As part of this the Government is assessing the potential for Government action in six sectors, including Advanced Manufacturing.
In December 2010 the Department for Business, Innovation and Skills published the 'Growth Review Framework for Advanced Manufacturing', developed with industry, which set out the barriers to growth. Also announced was the continuation of the Manufacturing Advisory Service (MAS), new robotics funding and increased engagement with industry.
Today's event and responses to the Framework will feed into the Advanced Manufacturing strand of the Government's Growth Review which will announce policy proposals at Budget 2011.
Skills Minister John Hayes also announced a new National Skills Academy (NSA) for Composites and Biotechnology. The Academy, which will form part of the National Skills Academy for Process Industries, will receive up to £1.98 million of funding over three years, matched by employers. It will work with employers, the Life Sciences Advisory Council, the National Composites Centre and specialist training providers to develop new professional standards and training programmes that meet the fast evolving skills needs of these hi-tech industries.
Links
###
Published 25 January 2011