News story
Motorsport and auto manufacturers sign up to open their doors
As part of See Inside Manufacturing nearly 30 companies will throw open their doors in October so that school children and students can get …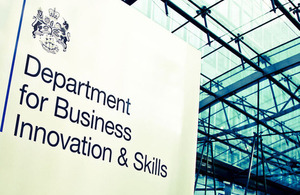 As part of See Inside Manufacturing nearly 30 companies will throw open their doors in October so that school children and students can get a look behind the scenes at what a career in manufacturing or engineering can offer.
In June there will be a number of co-ordinated regional events to promote the open days through teachers and careers advisers.
Business Secretary Vince Cable said:
"Young people buy and use the latest gadgets and products but we also need them to think how exciting it could be to design, engineer or make them too.
"We want them to See Inside Manufacturing and inspire a new generation of engineers and scientists to create a whole range of new iconic UK based products that are exported worldwide."
See Inside Manufacturing will focus on young people to encourage take up of Science, Technology Engineering and Mathematics (STEM) subjects as well as undergraduates considering their future career options. All the automotive activities are being co-ordinated by the joint industry/government Automotive Council.
Christine Gaskell, Member of the Board for Personnel, Bentley Motors, said:
"The automotive manufacturing sector can offer a great range of careers in a variety of different disciplines. Bentley Motors has always sought to attract people of all ages into the industry. We are delighted to support the See Inside Manufacturing initiative because high value manufacturing is critical to a balanced economy and for us to compete internationally we want the very best in the industry."
Dr Juergen Hedrich, Managing Director, MINI Plant Oxford, said:
"MINI and BMW are not only fantastic brands. Behind them are fascinating manufacturing processes that offer great career opportunities. Young people are looking for exciting challenges, well-rewarded work and jobs that offer a high level of satisfaction. By taking a first-hand look at MINI and BMW manufacturing, I'm sure many of them will be surprised and inspired."
Paula Leach, Learning and Development Manager, Ford of Britain, said:
"Ford Motor Company are delighted to be involved in the See Inside Manufacturing initiative. We are already engaged in many outreach activities with our local schools and communities and are passionate about sharing the exciting world of the automotive industry with young people. This initiative enables greater co-ordination across the industry to inspire young people to get involved with engineering."
Jonathan Dennison, Director of Government and External Affairs, GKN, said:
"See Inside Manufacturing will help inspire young people, and those that educate and advise them, that manufacturing can provide a rich, stimulating and rewarding career path. GKN is fully committed to this initiative and will look to build on its current activities with schools and other educational institutes in making sure that young people are better informed about manufacturing when making their career choices."
Phil Millward, HR Director GMUK, said:
"GM is delighted the Government have chosen the automotive sector to showcase the great work we undertake within our community in working with local schools and colleges about careers in automotive. GM has a long history in working closely within our local communities and we welcome the opportunity to be involved with this initiative."
Dave Hodgetts, Managing Director, Honda UK, said:
"I see it as a duty of care for all manufacturers to guide the next generation towards meaningful, fulfilling careers. We at Honda strongly believe in exposing young people to the world of work to inspire and help them make decisions about their future. The See Inside Manufacturing initiative will bring a welcome focus on the subject to attract talent for the good of the industry and future UK growth."
Mike Wright, Executive Director, Jaguar Land Rover, said:
"We not only support the See Inside Manufacturing initiative, but already have a number of programmes that are targeting similar objectives, including the Jaguar-sponsored GT in Schools national competition. A clear focus on promoting engineering excellence and highlighting the exciting career opportunities in the automotive industry for both apprentices and graduates is vital if the UK is to maintain a leading role in advanced research and development and manufacturing. During the See Inside Manufacturing fortnight more than 1,000 primary and secondary school children will visit Jaguar Land Rover's five Education Business Partnership Centres (EBPCs), which receive 17,500 children annually."
Miguel Fragoso, Millbrook Managing Director, said:
"For many years Millbrook has supported young people's involvement in the automotive sector through a wide variety of schemes, both within and outside of our business. This includes undergraduate placements and graduate development programmes, supporting college and university courses and working with schools to showcase engineering as an exciting and rewarding career choice. Millbrook's unique position supporting the entire automotive supply chain allows us to offer a broad range of career options and experience. We are delighted to be involved with this Government initiative to stimulate the interest of tomorrow's scientists and engineers who represent the future prosperity of our industry."
Trevor Mann, Nissan Senior Vice President for Manufacturing in Europe, said:
"Nissan Sunderland Plant already opens its doors to thousands of schoolchildren and young engineers every year and we take great pleasure in showing them the many and varied career opportunities that exist in the automotive sector.
"The See Inside Manufacturing initiative will help us to build on existing programmes like our Nissan Schools Engineering Discovery Event and to promote manufacturing and engineering to an even wider audience."
Tony Walker, Toyota Deputy Managing Director, said:
"Toyota Manufacturing UK welcome initiatives aimed at promoting a greater recognition of the contribution and importance of manufacturing to the UK economy. The See Inside Manufacturing initiative will complement our existing activities which are aimed at engaging young people, encouraging and inspiring them to be the next generation of engineers."
Paul Everitt, SMMT Chief Executive, said:
"The See Inside Manufacturing initiative is a great opportunity to raise awareness of the range of exciting careers available in the UK automotive industry. Being part of a global industry, particularly one that is leading the transition to low carbon, is incredibly rewarding. Despite difficult economic conditions, automotive companies are looking to recruit at all levels and the See Inside Manufacturing programme will help give parents, teachers and students the chance to learn more about the industry and the opportunities on offer."
Notes to editors:
Vince Cable asked UK manufacturers to open their doors for a day to students and teachers to get an insight into engineering and manufacturing careers at the Manufacturing Summit on 25 January. The automotive sector is spearheading See Inside Manufacturing this year, which will be rolled out across the wider manufacturing sector in 2012.

Companies and organisations currently supporting the initiative include: Alcon, Bentley, BMW Group UK, Bosch, Flybrid, Ford, GKN GM, Honda, Jaguar Land Rover, Johnson Matthey, Leyland Trucks, Lola Group, McLaren Automotive, Mercedes GP Petronas, Michelin, Millbrook, Nissan, Perkins, Prodrive, Ricardo, Rockingham Motor Speedway, Rolls Royce, SEMTA, SMMT, Toyota, Williams F1 and Xtrac.

Details of all automotive events being held as part of See Inside Manufacturing can be found on www.automotivecouncil.co.uk.

National Science & Engineering Week is from 11-20 March 2011. It is funded by BIS working in partnership with Engineering UK.

BIS' online newsroom contains the latest press notices, speeches, as well as video and images for download. It also features an up to date list of BIS press office contacts. See http://www.bis.gov.uk/newsroom for more information.
Notes to Editors
Contact Information
Name BIS Press Office Job Title
Division COI Phone
Fax
Mobile
Email NDS.BIS@coi.gsi.gov.uk
Published 11 March 2011