News story
Inspector of Constabulary reappointed
Home Secretary announces new five-year term for Stephen Otter.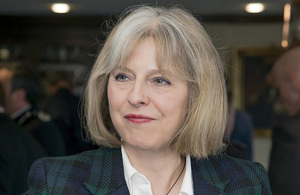 The Home Secretary today (Friday 20 February) announced that Stephen Otter has been reappointed as one of Her Majesty's Inspectors of Constabulary.
He was originally appointed in March 2012 following a rigorous recruitment process which included approval by the Prime Minister and Her Majesty the Queen.
Mr Otter has responsibility for a number of forces and agencies including the Metropolitan Police Service, the British Transport Police and the National Crime Agency. He leads the inspectorate's work on counter terrorism policing, organised crime and the Strategic Policing Requirement, and has also played a key role in successfully overseeing the development of the new all-force annual Police Effectiveness, Efficiency and Legitimacy (PEEL) inspection programme.
The PEEL programme represents a radical shift in how police forces are held to account by enabling the public to see clearly across a range of simple categories, how their force is performing on cutting crime, providing a service that is fair, and providing value for money.
Wealth of experience
Home Secretary Theresa May said:
Stephen Otter has brought a wealth of experience to Her Majesty's Inspectorate of Constabulary following a successful career in the police force.

His work on inspections around the effectiveness of police use of stop and search and Police Service of Northern Ireland's Historical Enquiries Team has been invaluable to the police and the public.

I'm delighted to be able to reappoint him as Inspector of Constabulary for another five years.
HM Inspector of Constabulary Stephen Otter said:
I am delighted to have been reappointed as one of Her Majesty's Inspectors of Constabulary. I am looking forward to continuing my work with colleagues at HMIC in our important task of inspecting and reporting on policing with the aim of encouraging improvement.
Enduringly invaluable
HM Chief Inspector of Constabulary Sir Thomas Winsor said:
The reappointment of HMI Stephen Otter is very good news for the public, the police service and HMIC, the police service and the public. His immense experience and professionalism in inspection of forces is enduringly invaluable, especially as HMIC continues with the most significant enlargement of its workload in its history.
I look forward to working with him as we continue to provide the public with information on their local forces.
The reappointment followed the normal process for Crown appointments and was approved by the Home Secretary, the Prime Minister and Her Majesty the Queen.
Published 20 February 2015