Innovative companies win Queen's Awards for Enterprise 2018
The awards are an annual celebration of the best UK businesses across 4 categories and feature 10 that have received Innovate UK support.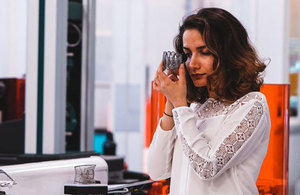 The Queen's Awards for Enterprise are given every year on the Queen's birthday for outstanding achievement by UK businesses across 4 categories:
sustainable development
promoting opportunity through social mobility
innovation
international trade
A total of 230 UK businesses have been recognised for leading industry with their products and services. Among the winners are 10 companies that have received funding support from Innovate UK. These companies feature across the international trade and innovation categories.
Winners in the international trade category have demonstrated that they have achieved substantial growth and commercial success overseas.
The winners in the innovation category were assessed for a number of indicators including invention, design or production, and performance of services.
Innovation and international trade
Awards for Innovate UK-supported companies went to:
Previous Queen's Awards for Enterprise winners have reported benefiting from worldwide recognition, increased commercial value, greater press coverage and a boost to staff morale.
Published 24 April 2018