Press release
Innovation the only way to tackle energy 'trilemma'
£19 million help to tackle climate change opens today (5 November 2014).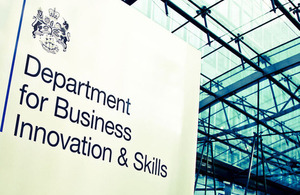 A £14 million fund to help businesses develop new products and technologies to reduce carbon emissions, improve energy security and reduce costs was announced by Secretary of State for Business, Innovation and Skills Vince Cable.
The fund will encourage companies to invest in technologies which help to meet our future energy needs in a more environmentally friendly way, while at the same time boosting economic growth.
In a separate competition, Innovate UK are also making £5 million available to increase research and development and fund feasibility studies to reduce the environmental impact of extracting and using fossil fuels. It will help develop innovative technologies to take advantage of the changing energy landscape and make £1 million specifically available for feasibility studies led by small businesses.
Business Secretary Vince Cable said;
We are facing a trilemma. As well as reducing emissions and improving energy security, we need to reduce costs for energy users. Governments have their role to play, but we also need there to be investment by businesses in innovation to develop new products and technologies.

We are making £14 million available to encourage that investment and make sure that British companies have help to tackle this challenge.
The Energy Catalyst, which is run by experts at Innovate UK, will give support to early stage ideas all the way through to prototype demonstrators. Any business which has developed a cutting edge product can apply for funding to help bring their product to market.
Iain Gray, Chief Executive of Innovate UK, said:
The energy sector is already a significant contributor to the UK economy. The size of the market and the possibilities for innovation to address these challenges creates great opportunities for those businesses to develop and grow. That's why Innovate UK is providing them with support to develop technologies that tackle the challenges, and bring them to market.
Notes to editors
The second round of the Energy Catalyst is jointly funded by Innovate UK, the Department of Energy and Climate Change (DECC) and Engineering and Physical Sciences Research Council (ESPRC).
Innovate UK is the new name for the Technology Strategy Board – the UK's innovation agency, accelerating economic growth. We know that taking a new idea to market is a challenge. We fund, support and connect innovative businesses through a unique mix of people and programmes to accelerate sustainable economic growth. For further information visit www.innovateuk.org
Published 5 November 2014