News story
Innovate UK puts environmental data firms in the 'shop window'
Environmental data entrepreneurs showcase ideas to solve business problems in agriculture and food, energy and infrastructure.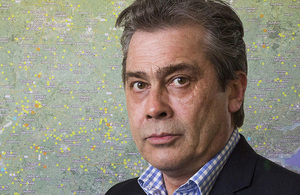 Innovate UK has staged a Collaboration Nation event at the Digital Catapult in London to highlight innovative ways of using environmental data.
More than 30 companies presented their ideas to potential investors and partners in a 70-strong audience after completing feasibility studies that received a total of £4 million in funding, including support from the Natural Environment Research Council (NERC).
Projects lasted up to 12 months, with a value of up to £200,000, and focused on three important markets: agriculture and food; energy generation and supply; and infrastructure, including transport, built environment and water.
Among those presenting was Rod Plummer, managing director of Shoothill, which has developed GaugeMap that provides a visualisation of nearly 2,500 river gauges around the country.
Shoothill: using Twitter to visualise flood data
A feature of the competition was the use of publicly funded datasets from organisations such as MetOffice, Environment Agency, Ordnance Survey and NERC Datacenters. Much of it is routinely collected, on subjects such as land cover, environmental change, precipitation, farm performance, biodiversity, water flows, geological surveys and marine environment.
Many of the projects used data gathered from satellites.
Published 19 June 2015