Injured soldiers begin charity 'Ride of Britain'
Two injured soldiers were among 40 cyclists who set off on a national cycling challenge this morning to ride from Edinburgh to London raising money for charity SSAFA Forces Help.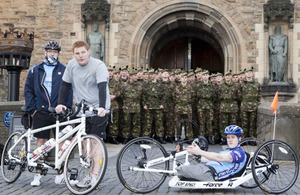 Riflemen Michael Paul Jacobs and Michael Swain both sustained permanent injuries during their deployments to Afghanistan in 2009.
Rifleman Jacobs, from 2nd Battalion The Rifles, was blinded when he was trying to save a colleague following an explosion. He is undertaking the Ride of Britain challenge on a tandem guided by his brother.
While Rifleman Swain, from 3rd Battalion The Rifles (3 RIFLES), who lost both his legs in an IED blast in Helmand province, is doing the challenge on a hand-bike which he learned to use as part of his rehabilitation.
The cyclists were set on their way this morning from Edinburgh Castle by Taggart star Blythe Duff, who said:
It was an honour to cheer the group off, the atmosphere was electric! The cyclists all have a big task ahead of them but I'm sure they will have a fantastic time along the route. The work the Armed Forces do every day is so important, and I wanted to be there to say thank you to them and support SSAFA Forces Help.
The 500-mile (805km), five-day cross country bike ride will raise money for SSAFA Forces Help, a charity that supports the Armed Forces Community.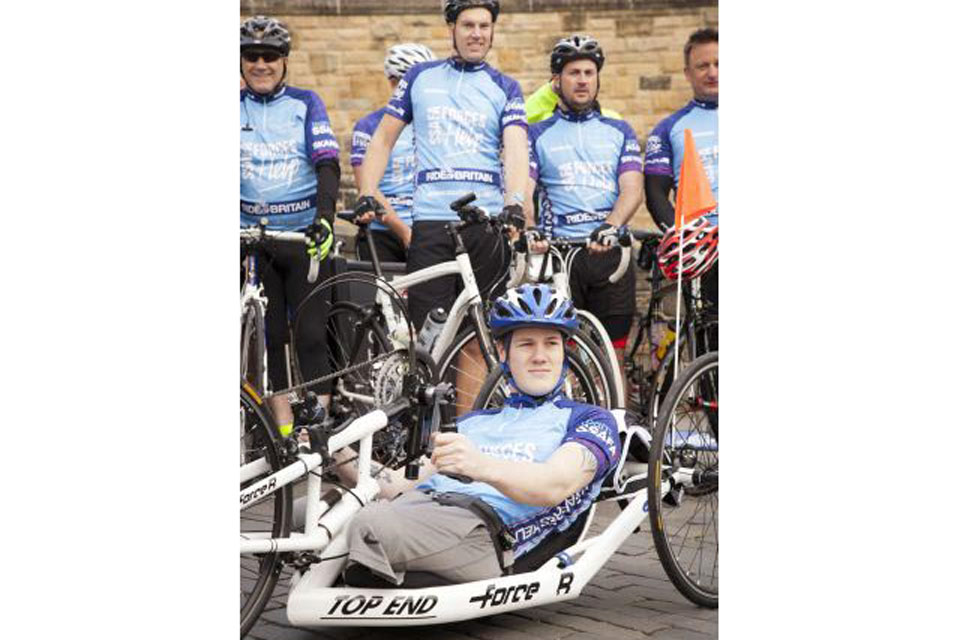 Members of 1st Battalion The Royal Regiment of Scotland and 3 RIFLES also waved off the team to the sound of bugles while the cyclists made their way down the Royal Mile. The team will cycle through Scotland, Carlisle, Harrogate, Lincoln and Cambridge and are expected to arrive in London on Sunday, 25 September 2011.
At the start of the challenge Rifleman Swain said:
The send off we got from the public was brilliant and seeing my battalion there meant so much to me. I was serving with 3 RIFLES when I was injured and I'm touched that they made the effort to come out today.
I hope even more supporters come out along the route! Learning to use the hand-bike has been important for my rehabilitation and this event has given me something to aim for. I hope this bike ride inspires people to challenge themselves and not give up.
Rifleman Jacobs added:
I have been waiting for this day for a long time. My brother and I have been training hard for this so it's brilliant to finally get going. We had a great send off from Edinburgh Castle and I look forward to meeting even more people as we make our way through Britain and into London.
SSAFA Forces Help has supported me and I know I can always go to them in the future if I need help. This is a huge comfort and that's why I want to give something back.
Members of the public are invited to come out and support the group in their local area as they ride through. Details of timings and places, real-time route updates as to where the group are, and how to donate, can be found on the SSAFA Forces Help website and Twitter.
Published 21 September 2011