Injured soldier runs 26 miles with body armour
At 5:17am on 17 April Major Al Jarvis, who is serving in Lashkar Gah, went for a run. Six hours and twenty five minutes later he completed 26 miles around the military headquarters of Task Force Helmand.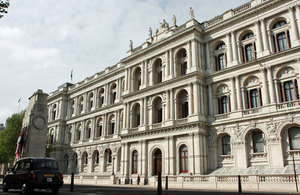 He was wearing body armour weighing 13kg.
To complicate matters further, Major Jarvis almost severed his spinal cord three years ago when he injured himself following a parachute training exercise in the US. He was immobile for a week as doctors removed two shattered discs and inserted two metal rods and ten screws into his back.
Two years later and after months of physiotherapy and treatment, Major Jarvis returned to Afghanistan. He had completed nine marathons before the accident, including one also in body armour in Lashkar Gah during a previous tour.
Major Jarvis was cheered on by military and civilian colleagues, including some who ran part of the grueling journey to provide round the clock support. Major Al Jarvis is rising money for Combat Stress, the veterans mental health charity.
After the incident Jarvis said: "Running in the high temperatures made it all the more interesting. But it was great having so many friends run and cheer me on. Combat Stress does really important work and I'm happy that I've been able to help them".
Major Jarvis works in the Provincial Reconstruction Team (PRT) as the Officer in Command of the forces deployed from the Military Stabilisation Support Group (MSSG). The 35 MSSG Operators deployed across central Helmand provide the tactical reach in the more remote areas for the civilian Stabilisation Advisors. The PRT is a UK led multinational team that includes US, Danish and Estonians contributions and is a mix of civilian and military staff. The PRT helps the Afghan Government deliver effective government and security across the Province. The focus of the PRT 's work is on capacity building at District and Provincial level.
You can donate money via justgiving where all proceeds will go to Combat Stress.
Published 18 April 2011