News story
Infection risk at petting farms: PHE urges good hand hygiene
Reminder to wash hands thoroughly after handling animals, as Public Health England (PHE) report annual rise in diarrhoeal illness.
This news article was withdrawn on
This news story has been withdrawn because it's over 4 years old. See PHE's latest news.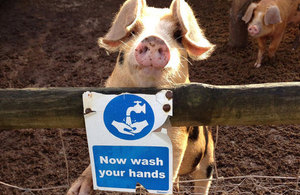 Cryptosporidium is a parasite that can be found in soil, water, food or on any surface that has been contaminated with human or animal faeces. Between January and May 2015 there were at least 7 outbreaks of cryptosporidiosis associated with petting farms across England affecting around 130 people.
Anyone can get cryptosporidiosis but it is most common in children aged between 1 and 5 years old. The peak in number of cases in spring is partly associated with children handling animals and feeding lambs at petting farms.
Avoid unnecessary illness when visiting farms by ensuring hands are washed thoroughly using soap and water after handling animals and before eating or drinking.
Professor Dilys Morgan, head of gastrointestinal diseases at PHE, said:
Around 2 million people visit farm attractions each year so the number of people who become ill is proportionally very small. However, many cases of illness could be avoided by practicing good hand hygiene.
Contact with farm animals brings risk of infection as the microorganisms - or germs - they carry are invisible to the naked eye. People may be tempted to use hand gels and wipes during a farm visit and after touching animals, but although they remove visible dirt and contamination, they may not be effective in removing the germs found on farms. Hands should be washed well with soap and water, especially before consuming food and drinks.
The symptoms of cryptosporidiosis are typically watery diarrhoea and stomach pains. There is no specific treatment for the illness which is usually self-limiting, although it is important that anyone with the illness keeps hydrated.
By maintaining good hand hygiene it can help avoid illness and enjoy a fun day out.
Farms should ensure that they have adequate signage reminding visitors about the importance of handwashing after touching the animals or their surfaces. Owners and managers of farm attractions are also strongly recommended to make use of the Industry Code of Practice on how to protect visitors and staff from illness, to ensure they are doing enough to comply with the law. Teachers and others who organise visits for children at farm attractions should be encouraged to read the guidance aimed at them.
When visiting petting farms, it is important to remember to:
wash your hands thoroughly with soap and water after you have touched animals, fences or other surfaces in animal areas
wash your hands thoroughly with soap and water before eating or drinking
remove and clean boots or shoes that might have become soiled, clean pushchair wheels and then wash your hands thoroughly with soap and water
supervise children closely to ensure that they wash their hands thoroughly
eat and drink in picnic areas or cafes only
Special care should be taken to ensure visitors do not:
put hands on faces or fingers in mouths while petting animals or walking round the farm
kiss farm animals nor allow children to put their faces close to animals
eat or drink while touching animals or walking round the farm - including not eating sweets, crisps or chewing gum
eat anything that has fallen on the floor
use gels or wipes instead of washing hands with soap and water as they do not remove the germs found on farms
For more information, see our leaflet about 'Avoiding infections on farm visits'
Image courtesy of David Powell, used under creative commons.
Published 22 May 2015