Press release
Industry agree stretching energy efficiency targets with government
The new CCA scheme has started, providing an extension to the Climate Change Levy rebate for energy intensive industries until 2023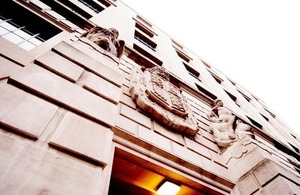 Press Notice 2013/034
UK Energy Intensive Industries have agreed to commit to stretching energy efficiency improvement targets to 2020 as part of the voluntary Climate Change Agreements (CCA) scheme. This will deliver an overall 11.0% energy efficiency improvement across all industry sectors by 2020 against agreed baselines.
The new Climate Change Agreements scheme started yesterday, and shall provide an extension to the Climate Change Levy rebate for energy intensive industries until 2023 in return for meeting energy efficiency improvement targets. The Environment Agency shall administer the new scheme, providing a simplified and streamlined approach to administration for both Government and Industry.
A total of 51 industrial sectors including steel, aerospace and farming have signed up across 9,000 sites.
Gregory Barker, Minister for Climate Change, said: "I am really impressed by the commitment shown by the UK Energy Intensive Industry to improving their competitiveness and energy efficiency. This partnership with Government demonstrates our commitment to growth"
These savings will be delivered through the implementation of cost-effective measures such as high efficiency motors, variable speed drivers, energy efficient boilers, improved energy management systems and process optimisation.
If all the sectors meet their targets from 2013 to 2020 against agreed baselines, this would:
Reduce emissions of carbon dioxide by 19 million tonnes;
Reduce primary energy consumption by approximately 100TWh;
Deliver an estimated saving to participants on the Climate Change Levy of £300 million each year.
Ray Gluckman, chair of the CCA Working Group of the UK Emissions Trading Group (ETG) said:
"The ETG appreciates the extensive consultation undertaken by DECC on this important element of climate change and energy efficiency policy. This has enabled industry to work with Government and the EA to help streamline and improve the operation of CCAs. The targets are challenging but provide industry with some degree of certainty over the goals to be achieved over the next 8 years."
Notes for Editors
All the sector targets that have been agreed are listed below.
The estimates above are indicative as they assume that productivity levels and fuel mixes will remain the same as in 2008. The estimated Climate Change Levy discount is not an official forecast. Estimated saving to participants on the Climate Change Levy of £300 million each year does not take into account the Mineralogical and Metallurgical industries' exemption from the Climate Change Levy announced in the Budget on 20th March 2013.
The Government will look very closely at the impact the proposed metallurgical and mineralogical process exemptions will have on the CCAs scheme and carefully consider retaining a link with CCA energy efficiency targets, as some in industry have suggested.
Participation in Climate Change Agreements is voluntary and is open to the most energy intensive industries. Eligible sectors can receive up to 90% reduction in the Climate Change Levy if they sign up to stretching energy efficiency targets agreed with Government.
The Government announced in Budget 2011 that a simpler Climate Change Agreement scheme would run from April 2013 to 2023 providing certainty for industry and encouraging long-term investment in energy-saving strategies which are good for growth and UK competitiveness.
Sector targets are set at percentage values energy efficiency improvement. They will be reviewed in 2016, with a view to assessing the progress made by each sector.
The target setting process used evidence templates completed by industry, setting out technological potential and what was cost effective to establish challenging energy efficiency targets for sectors which were realistic to deliver by 2020.
CCL discount for electricity under the CCA scheme will increase from 65% to 90% from 1 April 2013.
For more information on Climate Change Agreements, please see guidance on the Environment Agency web pages.
Sector Targets
|   | Sector | Final Sector Energy Efficiency Improvement Targets (%) for 2020 (from agreed sector baseline) |
| --- | --- | --- |
| 1 | Aerospace | 12.2% |
| 2 | Agricultural Supply | 7.5% |
| 3 | Aluminium | 2.8% |
| 4 | Bakers | 7.0% |
| 5 | Brewers | 13.6% |
| 6 | Calcium Carbonate | 7.5% |
| 7 | Cement | 3.4% |
| 8 | Ceramics | 6.1% |
| 9 | Chemicals incorporating Cleveland Potash | 11.2% |
| 10 | Compressed Industrial Gases | 2.6% |
| 11 | Dairy Industry | 13.6% |
| 12 | Egg Processing | 20.0% |
| 13 | Eurisol | 10.0% |
| 14 | Food & Drink | 18.0% |
| 15 | Food and Drink – Supermarkets | 14.0% |
| 16 | Food Storage and Distribution Federation | 11.7% |
| 17 | Foundries | 3.4% |
| 18 | Geosynthetics | 13.4% |
| 19 | Glass & Glass Manipulators | 5.0% |
| 20 | Gypsum Products | 6.3% |
| 21 | Heat Treatment | 18.0% |
| 22 | Horticulture | 14.0% |
| 23 | Kaolin and Ball Clay | 3.1% |
| 24 | Laundries | 25.0% |
| 25 | Leather | 5.3% |
| 26 | Lime | 4.0% |
| 27 | Maltsters | 4.7% |
| 28 | Meat | 15.0% |
| 29 | Metal Forming | 6.0% |
| 30 | Metal Packaging | 10.0% |
| 31 | Motor Manufacturers | 15.0% |
| 32 | NFU Poultry | 17.9% |
| 33 | Non-Ferrous | 4.4% |
| 34 | Packaging and Industrial Films Assoc | 5.9% |
| 35 | Paper | 7.0% |
| 36 | Pigs | 22.7% |
| 37 | Plastics | 17.0% |
| 38 | Poultry Meat Processing | 15.0% |
| 39 | Poultry Meat Rearing | 13.0% |
| 40 | Printing | 8.4% |
| 41 | Renderers | 10.0% |
| 42 | Rubber | 10.0% |
| 43 | Semiconductors | 12.2% |
| 44 | Slag Grinders | 6.3% |
| 45 | Spirits | 7.6% |
| 46 | Steel | 6.2% |
| 47 | Surface Engineering | 15.0% |
| 48 | Textiles - EI | 15.0% |
| 49 | Textiles - IPPC | 15.0% |
| 50 | Wallcoverings | 6.0% |
| 51 | Wood Panel | 8.8% |
Published 2 April 2013