Independent report states public rate Armed Forces highly
The biggest ever independent survey of British troops, which explores the relationship between Service personnel and wider society, has been published this week.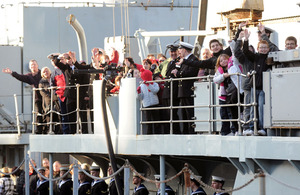 More than 9,000 serving members of the Armed Forces and 4,000 members of the public in Britain and the US were surveyed for the new report titled 'The Armed Forces & Society: The Military in Britain through the eyes of Service personnel, employers and the public'.
The report explores how those in the Forces think they are seen by Britons, their experiences of wearing their uniforms in Britain today, and any problems they experience as a direct consequence of their service. See the full report at Related Links.
The independent report, led by Tory peer and businessman Lord Ashcroft, has been conducted with the help of the MOD and has been welcomed by Defence Secretary Philip Hammond and Chief of the Defence Staff General Sir David Richards.
Amongst the findings in the report are that the public rate the Armed Forces very highly, and personnel felt public support has increased in recent years. However, some officers feared that the relationship with the public could deteriorate as current high-profile conflicts come to an end.
The report also says that more than half of Service personnel had experienced strangers expressing thanks and support in the last five years. This was in contrast to more than one in five who had experienced strangers shouting abuse, while nearly one in 20 had encountered violence or attempted violence in the UK.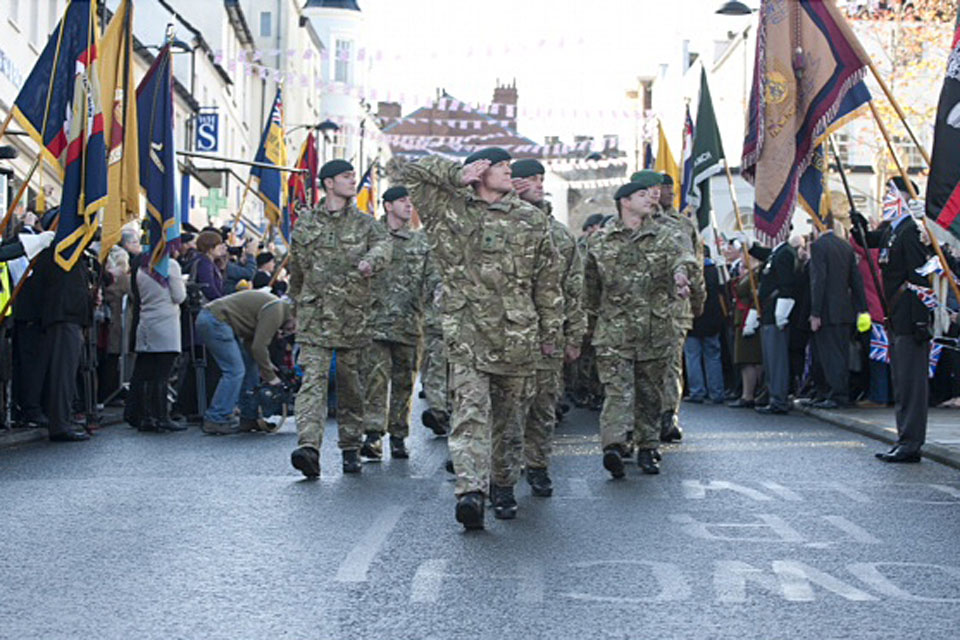 On a more positive note, one in four personnel had been spontaneously offered discounts by either a shop or business and two thirds of US citizens had gone up and personally thanked servicemen and women or could see themselves doing so compared with a quarter here.
Almost two-thirds of the public observed that there was too little recognition for the Armed Forces in Britain's society.
It seems that the biggest concern for the troops themselves was that an Armed Forces career wouldn't necessarily help them find a good job after leaving the Forces.
More than half of those surveyed feared that employers wouldn't understand what they had done in the military and so wouldn't give them a chance. Despite their experience, more junior personnel worried that they would be effectively starting their new careers from scratch.
Despite an overall positive view of Forces personnel and their attributes, one in four employers thought that ordinary ranks may lack the right 'people management' skills.
The report also says that more than a quarter of personnel had been turned down for a mortgage, loan or credit card during the last five years and one in five had trouble getting a mobile phone contract. Personnel complained that their frequent change of address had counted against them in credit checks.
In the report, Lord Ashcroft calls on the public to personally thank those in uniform for their service, to extend generous discounts for personnel and veterans, and for firms to ensure that they deliver to BFPO addresses and don't charge over the odds. (See Related News to read how the MOD has recently introduced new online postcodes to improve access to products and services on the internet for everyone serving overseas.)
He also urged companies to recognise that for Armed Forces personnel frequent changes of address are part and parcel of the job and doesn't necessarily mean they are a bad credit risk.
He challenged employers to consider actively recruiting Service leavers and consider the skills and experience that middle and junior ranking personnel have to offer.
Thanking the Chief of the Defence Staff for his co-operation, Lord Ashcroft said:
I hope this study will prompt people to think about whether our Forces get the recognition they deserve, and what more we can do to show personnel that they are appreciated - whether through discounts, making sure they are not disadvantaged in everyday life, or though a simple word of thanks.
I also hope more employers will recognise that former personnel, even at quite junior levels, often have experience of leading and thinking on their feet that their civilian contemporaries would find hard to match.
In response to the findings, Philip Hammond said:
We have worked hard to ensure our Armed Forces, veterans and their families have the support they need and are treated with the dignity they deserve.
That is why we committed to rebuilding the Armed Forces Covenant and its principles are now enshrined in law, and we have made great progress over the last year with practical improvements to Service life.
This helpful report shows there is still more we can do and I want to thank Lord Ashcroft for his work.
General Sir David Richards added:
The men and women of our Armed Forces reflect what is best in our society. They are the finest of their generation. They deserve respect and support from the British public.
So it's great to see that the vast majority of personnel get this recognition and are even thanked by strangers. This report has made a valuable contribution to our understanding of what members of the Forces and the public think of each other.
Published 15 May 2012