Independent panel to help government cut housebuilding red tape and boost growth
New independent group of building industry experts to simplify the mass of rules imposed on developers and housebuilders.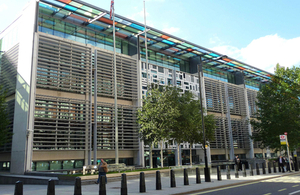 Communities Minister Don Foster today launched a new independent group of building industry experts, tasked with simplifying the mass of rules imposed on developers and housebuilders, to make them easier to understand and follow.
As part of the government's Red Tape Challenge, ministers have made clear they want to do everything possible to remove unnecessary burdens and bureaucracy imposed on developers to get much-needed new homes built, and support economic growth. The current, complex system of building regulations and housing standards will be targeted by a new Independent Challenge Panel, which will consider how these requirements work together and what potential there is to free up the system and make it work more efficiently.
The panel will for the first time bring independent experts together with government and it will report to ministers in spring 2013.
But Mr Foster also made clear that essential safety and accessibility protections will remain untouched and that homes will always need to be built to high sustainability and quality standards.
Housing standards review
But with the hundreds of standards that can be applied to new-build homes, some of which duplicate each other, a separate group will work alongside the new Challenge Panel to consider the specific issue of standards applied to housebuilding.
While some of these standards are applied nationally across certain types of homes, such as affordable housing, others are made mandatory by individual councils for building in their area and some are entirely voluntary - resulting in confusion for local people and developers. Examples include:
the requirement for 2 phone lines in home offices, irrespective of need and in addition to broadband connection
rules on window sizes that include a 'dirty window factor' - imposing bigger windows to allow for dirt on them, rather than assuming people will simply clean their windows
a requirement that 'drying space' is designed and assessed when often this is nothing more complicated than a washing line over a bath
conflicting guidance on how to construct safe and accessible stairs
standards being assessed repeatedly by different people - such as planners, code assessors, building control officers - often looking at the same issues but coming up with different answers
This new review, led by the Department for Communities and Local Government (DCLG) and to be conducted by a group of industry representatives, will look to avoid overlap and duplication in the system, helping ensure builders meet the high standards that aspiring homeowners rightly expect.
Don Foster said:
"The current array of different housing standards used in different parts the country is complex and counter-productive, confusing local residents, councillors and developers.
"This is why an urgent review has now started, bringing the government together with housebuilders, planners, councils and architects to establish what the unnecessary measures are that we can cut out of the system, while ensuring buildings are still made to exacting standards.
"I want to see a simpler set of housing standards that people can easily understand and that free up developers and councils to get on with the job of building the high-quality new homes we so badly need to get more first-time buyers and families onto the housing ladder."
The review was part of the government's housing and growth strategy announced on 6 September 2012. It will result in a clear plan of action by next spring that will be put out to consultation.
Further information
The Independent Challenge Panel members are: * Andy Von Bradsky (architect) * David Clements (building control) * Paul Watson (planner) * Kirk Archibald (developer)

DCLG is chairing and leading the housing standards review and has convened a group of members from representative industry bodies, comprising: * Homes and Communities Agency * House Builders Association * National House Builders Council * National Housing Federation * Habinteg Housing Association * Local Government Association * Planning Officers Society * Home Builders Federation * Construction Products Association * Building Control Alliance * Association of Chief Police Officers * UKGBC * Building Research Establishment * Royal Institute for British Architects * Building Regulations Advisory Council * Greater London Authority

Some of the housing standards that the review will consider include the Code for Sustainable Homes, Secured by Design, Lifetime Homes, Standards and Quality in Development and the Homes and Communities Agency's Housing Quality Indicators.

The review is taking place alongside the review of planning practice guidance which was announced on 16 October 2012, and both groups will be working closely together.

Comments and enquiries on the review should be emailed to housingstandardsreview@communities.gsi.gov.uk.

The Red Tape Challenge was launched by the Prime Minister in April 2011 and is systematically examining some 6,500 substantive regulations that the government inherited with the aim of scrapping or significantly reducing as many of them as possible. It gives business and the public the chance to have their say, by theme, on the regulations that affect their everyday lives. The Housing and Construction Red Tape Challenge was open for comment from the 12 January until 17 February 2012. More information can be found on the Red Tape Challenge website.

On 10 September 2012 the Department for Business, Innovation and Skills announced that through the Red Tape Challenge at least 3,000 of the cross-government regulations examined will be scrapped or reduced. By 'scrapped', we mean that regulation is completely removed from the statute book. By 'reduced', we mean that regulations are reduced in number (eg a consolidation, making the rules simpler to find and follow); and/or in terms of the burden they impose (eg reducing who is caught by the regulation; removing domestic gold-plating of EU law; active renegotiation of EU law; simplifying requirements set by the regulation or in related guidance; or reducing the burden of inspection and enforcement arising from the regulation). Around 1,500 of the 3,000 changes will have a measurable financial benefit for business: this does not include consolidations of regulations without any changes to the content of those regulations. The Red Tape Challenge comprises regulation of UK origin and regulation that transposes EU laws. It does not include legislation or regulations falling within the responsibilities of the devolved administrations, tax and fees legislation or national security matters.
Published 31 October 2012