Independent Living Fund reappointment of Chair and Vice Chair of board of trustees
Stephen Jack OBE and Professor Peter Cooke reappointed as Chair and Vice Chair of the Independent Living Fund board of trustees.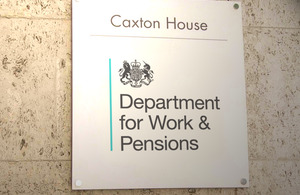 Minister for Disabled People, Mark Harper, today (24 March 2015) announced the reappointment of Stephen Jack OBE and Professor Peter Cooke as Chair and Vice Chair of the Independent Living Fund board of trustees respectively, for a further term from 1 April 2015 until the full closure of the Fund after June 2015.
The Independent Living Fund is an executive non-departmental public body, sponsored by the Department for Work and Pensions (DWP) and operates as a discretionary trust managed by a board of trustees appointed by the Secretary of State for Work and Pensions.
The Independent Living Fund is wholly funded by the DWP and the Department for Social Development in Northern Ireland and provides financial support to severely disabled people who wish to live independently in the community. Help is provided in the form of cash payments to individuals, which are used to buy personal care and/or domestic assistance, providing greater opportunities for choice and control in their individual care arrangements. They work in partnership with local authorities to devise joint care packages.
On 6 March 2014 the then Minister for Disabled People Mike Penning, announced that the Fund would close from 30 June 2015 with funding devolved to local government in England and the devolved administrations in Scotland and Wales. The Independent Living Fund has carried out an extensive programme of transitional review activity to ensure that every current user has individually-agreed agreed arrangements in place for transferring their care packages to local authorities. The reappointment of the chair and trustees will enable the Independent Living Fund to continue to benefit from expert leadership and experience during this transitional period.
There are 7 existing trustees who are remunerated according to their position within the Trust and entitled to be reimbursed for all reasonable and proper expenses incurred in carrying out their duties.
Stephen will be remunerated an annual sum of £19,500, out of the Trust Fund for fulfilling his role as Chair.
Biographies
Stephen Jack OBE, Chairman
Stephen is a Chartered Accountant who has held senior management positions in a number of international financial services organisations. He is currently a Vice Chair of Anchor Trust, England's largest not for profit provider of care and housing for older people, and a Non-executive Director of the Cambridge Building Society. In May 2014 he also became a trustee of the Royal Mencap Society.
Professor Peter Cooke
Peter Cooke is Emeritus Professor of Automotive Management at the University of Buckingham Business School, where he was previously Professor and Head of the Centre for Automotive Management. He is also: a consultant, speaker, writer and broadcaster on automotive and disability issues; a Winston Churchill Memorial Fellow (since 2002) and a governor of Motability. Peter was a non-executive director of Remploy for 7 years.
More information
All public appointments under the Office of the Commissioner for Public Appointments Code of Practice are made on merit, and political activity plays no part in the selection process. Stephen Jack has not declared political activity and does not hold other ministerial public appointments.
The Independent Living Fund's address is:
The Independent Living Fund
PO Box 7525
Nottingham
NG2 4ZT

Contact Press Office
Media enquiries for this press release – 020 3267 5108
Press Office
Caxton House
Tothill Street
London
SW1H 9NA
London Press Office (national media and London area enquiries only – not questions about personal claims) 020 3267 5144
Out-of-hours (journalists only) 07623 928 975
England and Wales (local media enquiries) 029 20 586 then 097 or 098 or 099
Scotland (local media enquiries) 0131 310 1122
Follow DWP on:
Published 24 March 2015