Press release
Independent inquiry into OTR scheme: Terms of reference
The PM announced today that an independent judge will produce a full public account of the operation of the OTR administrative scheme.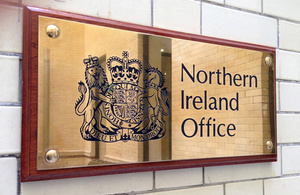 The aim of the inquiry is to:
To produce a full public account of the operation and extent of the administrative scheme for 'On the Runs' (OTRs)
To determine whether any letters sent through the scheme contained errors
To make recommendations as necessary on this or related matters that are drawn to the attention of the Inquiry
The person conducting the review will have full access to all government papers about the operation of the scheme. They will be free to interview key individuals in the civil service and the police, and any others where those individuals are willing.
The report should be provided to the Secretary of State for Northern Ireland by end May 2014 for the purpose of its full publication.
Published 27 February 2014