Increasing pressure on the Syrian regime
Foreign Secretary William Hague speaks after new sanctions on the Syrian regime were agreed in Brussels.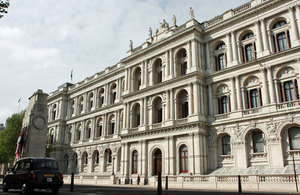 Following the Foreign Affairs Council meeting in Brussels, the Foreign Secretary said:
"I welcome the EU's decision today to apply further pressure on President Assad's regime, following the strong measures announced by the Arab League this weekend. The EU has listed a further 18 individuals involved in or supporting the regime's activities, including military, security and intelligence officials leading military operations in Syria. In addition, the EU has moved to prevent any further disbursement of loans from the European Investment Bank to Syria.
"President Assad has ignored countless calls by the international community to put an end to the horrific violence in Syria. Since the Syrian regime's claim to have agreed to the plan put forward by the Arab League on 2 November, violence has only escalated with a death toll of over 3,500 people since March. As long as the violence continues, we will continue to press the Syrian regime to bring an end to this killing".
Published 14 November 2011