Improving international collaboration – MHRA and Swissmedic sign MoU
As part of the 11th Summit of the Heads of Medicines Regulatory Agencies in Interlaken, the Medicines and Healthcare products Regulatory Agency (MHRA) has signed a Memorandum of Understanding (MoU) with its Swiss counterpart, Swissmedic.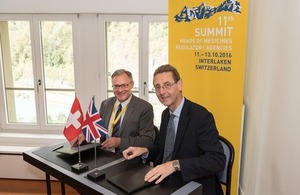 Working in an increasingly global environment, regulatory authorities such as MHRA and Swissmedic contend with the growing complexity of therapeutics product research and production.
Following many months of discussion, the central understandings of the MoU include a shared approach to complex challenges as well as promotion of each other's regulatory frameworks, requirements and processes. Significant outcomes will include the facilitation and exchange of information, which will help to make sure the regulators are better equipped to protect the health of their respective publics.
MHRA Chief Executive Dr Ian Hudson said:
Part of our commitment to protecting the health of UK citizens is by creating close ties with international counterparts.

Through closer collaboration, we can provide a basis for increasing shared initiatives as well as create a foundation for easier information-sharing.

We operate in a global environment and agreements such as these serve to further strengthen our ability to promote good practices and we look forward to working even closer with our Swiss counterparts.
Notes to Editor
The Memorandum of Understanding was signed by Mr Jürg H. Schnetzer, Executive Director, Swissmedic and Dr Ian Hudson, Chief Executive, MHRA.
MHRA is responsible for regulating all medicines and medical devices in the UK. All our work is underpinned by robust and fact-based judgments to ensure that the benefits justify any risks. MHRA is a centre of the Medicines and Healthcare products Regulatory Agency which also includes the National Institute for Biological Standards and Control (NIBSC) and the Clinical Practice Research Datalink (CPRD). The Agency is an executive agency of the Department of Health. www.mhra.gov.uk
Media enquiries
News centre
MHRA
10 South Colonnade
London
E14 4PU
Email newscentre@mhra.gov.uk
During office hours: 020 3080 7651 (08:30 - 17:00)
Out of office hours: 07770 446 189 (17:00 - 08:30)
Office hours are Monday to Friday, 8:30am to 5pm. For real-time updates including the latest press releases and news statements, see our Twitter channel at https://www.twitter.com/mhragovuk
Published 11 October 2016