News story
Improving hospital food event
This event will address the crucial link between clinical and catering staff in the dignity and respect of patients specifically in relation…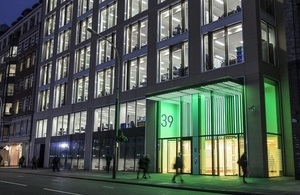 This event will address the crucial link between clinical and catering staff in the dignity and respect of patients specifically in relation to nutrition and hydration. Following the Secretary of State for Health's announcement of the fundamental principles patients can expect from hospital food, an improving hospital food event will be held at Nottingham University Hospital on 11 March 2013.
Speakers
Relevant organisations presenting alongside the NHS will include:
NHS Commissioning Board
British Association for Parenteral and Enteral Nutrition (BAPEN)
Soil Association.
Speakers will be referencing government buying standards for food and catering and incentives to reward excellence as well as focusing on the needs of vulnerable patients and healthy eating for staff and visitors.
Location
Nottingham City Hospital, Hucknall Road, Nottingham, NG5 1PB
Who should attend
The event is open to all who work in the NHS who have an interest in this agenda including chief executives, finance and procurement managers, clinical and catering staff.
Cost
The event is free of charge.
How to book
If you would like to book a place please email hospitalfood@dh.gsi.gov.uk or telephone 0113 254 5696 for further information.
Fundamental principles to drive up standards
nutritious and appetising hospital food and drink is an essential part of the personal package of care and hospitals should take all reasonable steps to ensure that patients have a healthy food experience
all patients should be able to choose from a reasonably varied menu which complements their clinical care requirements whilst meeting their social and religious needs
all patients should have access at all times to fresh drinking water, unless this is contraindicated by their clinical condition
access to food and drink outside planned mealtimes should be available where appropriate
hospitals should promote a healthy diet to their staff and visitors
the criteria set out in the Government Buying Standards for Food should be adopted as standard where practical and supported by procurement practices
Hospitals should regularly evaluate their food services and act on feedback from patients, demonstrating improvement and aiming to achieve and maintain excellence
Commissioners of NHS-funded care should seek and reward excellence in hospital food when contracting services
Published 29 January 2013