Immigration offenders arrested in Home Office operations
Home Office enforcement teams have arrested 139 immigration offenders after nationwide operations targeting illegal working and immigration abuse.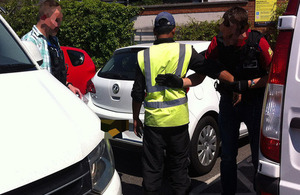 More than 130 immigration offenders have been arrested across the country as part of a day of high profile Home Office activity to tackle illegal working.
Operations are taking place up and down the UK, targeting illegal working as well as other forms of immigration abuse. So far today enforcement officers have arrested 139 suspected immigration offenders at locations including London, Durham, Manchester, Wales and Somerset. They are currently being questioned with a view to removing those who have no right to be in the country.
Civil penalty notices of up to £10,000 will be handed to employers suspected of using illegal labour.
Immigration abuse
The high profile activity is designed to send a message to employers who exploit illegal labour and to people who are in the UK illegally.
Immigration Minister Mark Harper said:
Today's operations highlight the routine work we are carrying out every day to stamp out illegal working. We are sending a clear message to employers who choose to use illegal labour: we will find you and you will pay a heavy penalty.

Illegal working undercuts legitimate businesses and is often linked to exploitative behaviour such as tax evasion and harmful working conditions.

We will not allow the growth of a shadow economy for illegal migrants.
Immigration Minister Mark Harper talks about operations targeting immigration abuse
The Immigration Bill, which will be introduced later this year, will carry proposals to make life even tougher for unscrupulous employers by increasing the amount they will be charged if they are found to be employing illegal workers. It will also cut through red tape and make it easier for legitimate businesses to comply with right to work checks. A six week consultation on the proposals was launched on 9 July.
Immigration Bill
Anyone with information about immigration crime can contact Crimestoppers on 0800 555 111 anonymously.
Employers unsure of the steps they need to take to avoid employing illegal workers can get advice here or they can call the Home Office Employers Helpline on 0300 123 4699.
Net migration is now at its lowest level for a decade showing the Home Office is continuing to bring immigration back under control. The new Immigration Bill will reduce the pull factors to this country and make it easier to remove people with no right to be here.
Published 1 August 2013
Last updated 1 August 2013
+ show all updates
Added a video clip

Changed picture

First published.