Press release
Illegal Manchester waste site owner sentenced
The Environment Agency has successfully prosecuted a man for operating a large scale illegal landfill site in central Manchester.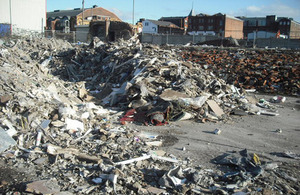 Princeston Valentino Green, 51, of Castle Road, Kidderminster appeared at Manchester Crown Court on Monday 8 September where he was sentenced to eight months in prison, suspended for two years. He was also fined £3000, ordered to undertake 200 hours community work and required to pay a £15 victim surcharge.
Environment Officers conducted a covert surveillance operation in February 2011 after almost 12,000 cubic metres of waste built up at the site of the Old Lancashire Dairy Mill at Knowsley Street off Cheetham Hill Road, Manchester – enough waste to fill five Olympic swimming pools.
The officers gathered photographic evidence of Green accepting and storing waste without a permit, and a subsequent search revealed a log book of vehicle movements and waste deposits at the site.
Environmental Crime Officer Sharon Owen said: "This is a great result for the community and businesses in central Manchester. The waste being stored illegally by Green and others was an eyesore, posed huge health risks and blighted the local environment."
The court imposed the sentence using recently issued Sentencing Guidelines. Those committing serious waste crime face the prospect of significant penalties, including imprisonment.
If you spot piles of waste building up in your community then report it to the Environment Agency on 0800 80 70 60. We can tell you if the site has a permit, and we will regulate permitted sites rigorously to make sure waste is stored safely.
Published 9 September 2014