"If reforms continue we are ready to build a new relationship with Burma"
Foreign Secretary William Hague writes about his historic visit to Burma on 5-6 January.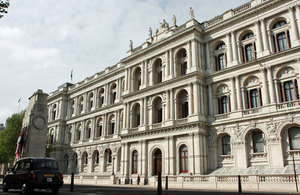 The Foreign Secretary has concluded his visit to Burma, the first for a UK Foreign Secretary in over 50 years.
He writes about this historic occasion:
"I have been a Member of Parliament for 23 years. For the vast majority of that time, Daw Aung San Suu Kyi was prisoner in her own home; confined, guarded and separated from her family and the outside world. Throughout my whole political career she has been a potent symbol of hope and dignity in the face of injustice and oppression, a heroine to me and to countless other people around the world.
In 2010 she was finally freed, amid signs that the situation in Burma was at last changing for the better. Since then some political prisoners have been released, restrictions on the media and political parties have been eased and by-elections will be held in April this year. Aung San Suu Kyi herself has made the courageous decision to engage in political dialogue with a Government descended from the military regime that put her under arrest, and her party will run in the by-elections.
On Thursday I arrived in Burma. Until that point, no British Foreign Secretary had set foot in the country in over 50 years, for good reason.
My visit was made possible by the changes now underway which - although it is only right to view them with caution at this early stage - offer the chance, if they are continued and entrenched, for Burma and her people to escape the tragedy of recent decades.
I went to meet the Government and opposition figures to gauge for myself what is happening on the ground and to encourage further reform. I met the President, Speaker of the Lower House and Foreign Minister, as well as leaders of ethnic groups, former political prisoners, and Aung San Suu Kyi and her Party, the National League for Democracy.
We still have very serious concerns about the human rights situation in Burma. Hundreds of men and women still remain in jail there for their beliefs and must be released. Minorities like the Rohingya in many cases lack basic civil and political rights. The country's border regions are scarred by conflict and suffering, particularly in Kachin state, where fighting has displaced tens of thousands of people in recent months. The UN urgently needs to be allowed to deliver humanitarian assistance there, the fighting must stop and the Government needs to begin meaningful political dialogue with ethnic armed groups. And the by-elections in April must be open, credible and fair. I raised these issues with the Burmese leaders I met.
But it is right that we react in good faith to the changes that are taking place.
My message to the Government was that we will respond to measures they take to open up the country.
If real and lasting reform continues, we are ready to offer a new relationship based on friendship and prosperity.
This is the approach that Aung San Suu Kyi herself favours, and which we discussed at length. She believes the President's commitment to reform is sincere and has embarked with him on a dialogue to bring about change. Her commitment to her people is beyond question, and I believe it is right to back her judgement.
Britain is the biggest bilateral aid donor to Burma. During the visit I announced funding for microfinance initiatives to help up to 55,000 more people, and additional support in food, nutrition, shelter, water and sanitation to 13,000 people displaced by conflict in Kachin State, as a sign of our commitment to the people of Burma.
The hours I spent with Aung San Suu Kyi at her home, where she spent some of her most difficult years, and at the British Embassy in Rangoon were memorable and inspiring. I gave her a letter from Prime Minister David Cameron, a copy of my biography of William Wilberforce and a photograph taken in London of her father, Burma's independence leader, who was later tragically assassinated.
We spoke about her hopes for the future of country. I was struck by her self-discipline and profound sense of duty. As she put it to me, the key to Burma's future lay in two words: hard work. She had a clear message for the people of Britain: the people of Burma valued our friendship and knew they could count on our continued support.
Burma's struggle for freedom and democracy has been long and it still continues. Its people have suffered grievously. In Aung San Suu Kyi's own words: "The quest for democracy in Burma is the struggle of a people to live whole, meaningful lives as free and equal members of the world community". Today, if these reforms continue, the people of Burma and its friends overseas can finally dare to hope that her vision may become a reality. Burma is a beautiful country with a remarkable people and enormous economic and social potential. Our Government will use Britain's diplomatic support and development assistance in every way we can to help bring this about."
Published 9 January 2012