News story
IEDs - the unseen enemy
A thought-provoking exhibition on improvised explosive devices (IEDs) opens today, 19 July, at the National Army Museum in London.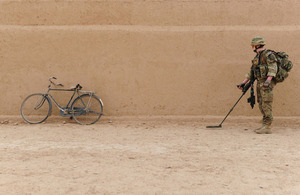 Some call them the perfect soldier. They never sleep. They don't need feeding. Permanently on duty, they can wait patiently for years, until it is time for them to act.
And when they do, in an instant they can change lives, causing confusion and destruction. Over the last decade the improvised explosive device has become the insurgents' weapon of choice and entered our lexicon of evil.
But beyond tabloid headlines, what do we really know about these devastating devices, which have in fact been around for more than a century?
The National Army Museum's gritty and thought-provoking 'Unseen Enemy' exhibition scrapes away the surface to reveal the truth about the IED, its history, the people who plant them and why, those who search for them, and those who must deal with their awful consequences.
Amy Cameron, the museum's education officer, whose idea it was to put on the exhibition, said:
The use of IEDs has created a legacy for today's generation of soldiers, and the impact will continue for many years to come. They have changed modern conflict, and their use will continue to spread throughout the world in the future.

This exhibition highlights the experiences of the men and women who deal with these devices. The stories they tell reveal their dedication, resilience and courage in ways that are moving, humorous and inspiring.
With unprecedented help from military IED and medical experts, 'Unseen Enemy' bristles with fascinating, sometimes spine-chilling, things to look at and learn about.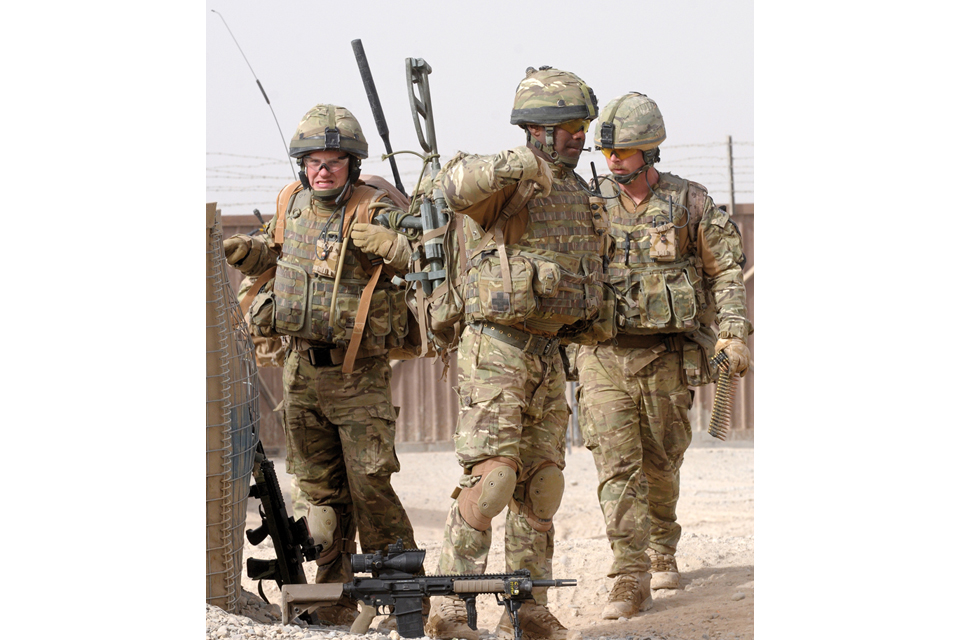 Major Eamon Heakin, an ammunition and explosives disposals expert from the Royal Logistic Corps, was one of the advisers:
There are so many different stories to tell," he said, "everything from the search dog at the front of the road party to the EOD (explosive ordnance disposal) operator who finally advances to deal with a device.

And there's logistics too, getting all the stuff into place can be just as big a headache as actually dealing with the IED. Really it's a story about teamwork. Without all the different people doing their jobs, you can't achieve anything.
The exhibition is very interactive. For example, visitors will have the chance to put themselves in the boots of the troops by walking down a simulated Afghan street seeded with hidden devices.
Having first learned a bit about what the troops call 'ground sign', those things that warn you that something is not quite right, you set off on your short patrol. Deciding what is innocent, and what is not, means that each adrenalin-filled step could be your last.
And although you won't be doing it in 50-degree heat while carrying 50 kilograms of kit, there is still a good chance that you will feel a trickle of sweat running down your spine. Amy explained:
We have included enough elements to indicate that every step counts, you can't switch off, and you can't have a bad day.
At the end you get to see all the things you should have spotted. Anything less than 100% is a fail. Which illustrates another aspect of the bomb-maker's trade. Why is he doing this?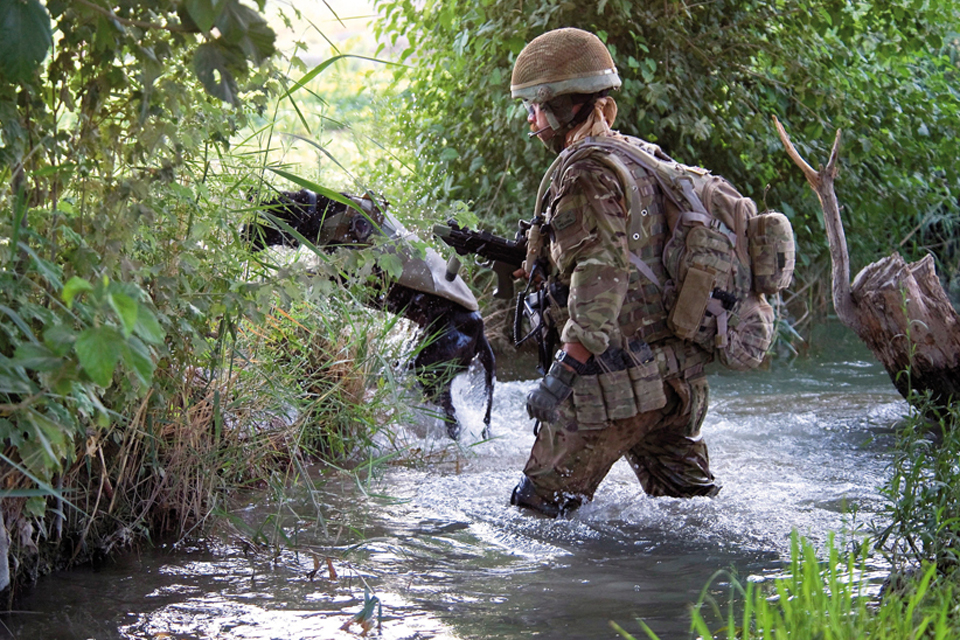 When an insurgent lays an IED, his intention isn't just to blow people up. He also wants to slow things down, create doubt and disrupt the normal pattern of local life. Planting IEDs in fields, ditches and paths means that civilians can't farm, or go to market, or tend to their daily business.
And if a soldier finds one he asks himself 'why have they chosen this place?' For the inexperienced, every pebble can become suspicious. Amy said:
I think that's one of the biggest challenges that soldiers face. Because, if you approach everything in that frame of mind, it means that you don't get your job done.
It is a grim game of cat and mouse where the insurgent and the soldier are constantly trying to stay one step ahead. Amy continued:
So we do take a good look at the complexity of the attacks, and we look at how the military develop their tactics and training to counter those developments.
This was another area where Major Heakin's help was indispensable. He said:
We've spent hours listening to interviews, looking at equipment and videos and talking to capability staff officers right from the start to make sure we are being as open as we can be without compromising security.
What has been so amazing for me," said Amy, "is just how young some of the troops are who do this job. They have to juggle all this information with such intelligence.

They have to balance all these complexities and they do it with such grace. They tell me they are nervous at first, especially if they are the Vallon man (the individual selected to go ahead with the mine detector).

But their confidence soon builds and they are quick to point out that they get so much training, the quality of which is second-to-none.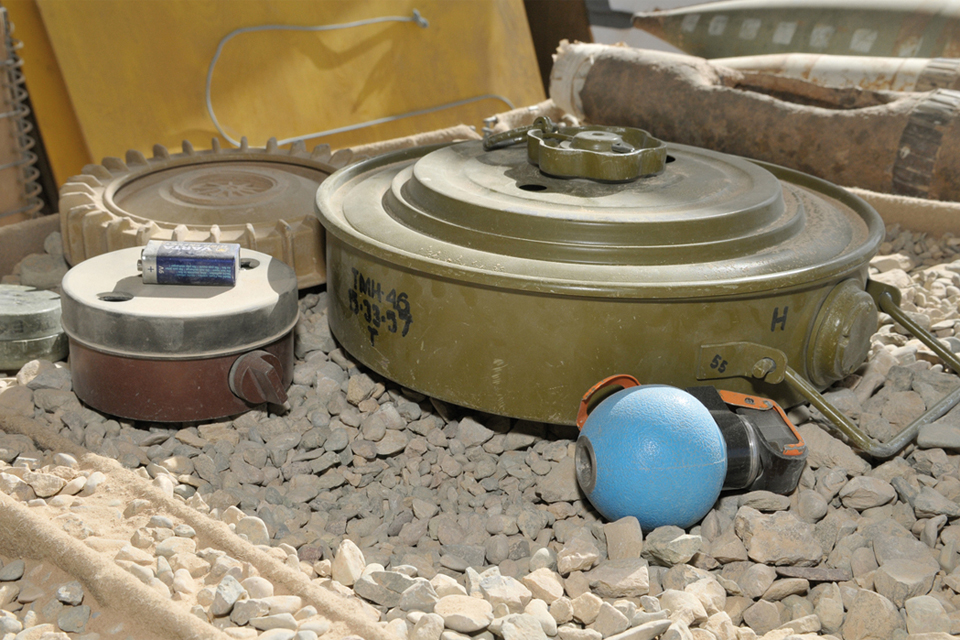 The reality of IEDs is a gritty one, and it's one that the museum does not shrink from telling:
Our displays don't pull any punches," said Katy McMullen, the National Army Museum's marketing and communications officer. "There is a medical section with some graphic things on show.

We suggest to visitors that, if they are sensitive, then this is a display that they should approach with some caution. But you can't tell a story like this without telling all aspects of it.
It is Major James Salt from the Royal Army Medical Corps who gets the credit for doing all the running around to tell this side of the story:
Knowing what things to include from the initial point of wounding, throughout all the stages of the medical journey to recovery, was straightforward," he said. "It was getting hold of kit for the exhibition and rounding up willing but busy people to relate their stories to Amy that was time-intensive.
Thanks to Majors Salt and Heakin, it is the product of these interviews with personnel who have an IED story to tell that sets this exhibition apart. Over the last 12 months, Amy travelled to military bases all over the UK to talk to them:
It is the strongest way of getting it across. Yes we have to interpret objects and write captions in order to get a narrative going, but it's the soldiers' voices that really portray the experiences which people can relate to and get some understanding of the emotions, camaraderie and the brotherhood.

Their voices are far more powerful than any words on a panel.
The displays range from technically-advanced counter-IED equipment to the ingeniously simple and fiendish examples of devices that have been constructed from everyday items:
We have some personal objects too. And some really cool scientific gadgets where we talk about advances in technology and innovation," said Amy. "We have built a prosthetic man from artificial limbs, eyes, hearing aids, colostomy bags and even prosthetic testes to show the complexity of injuries caused by IEDs.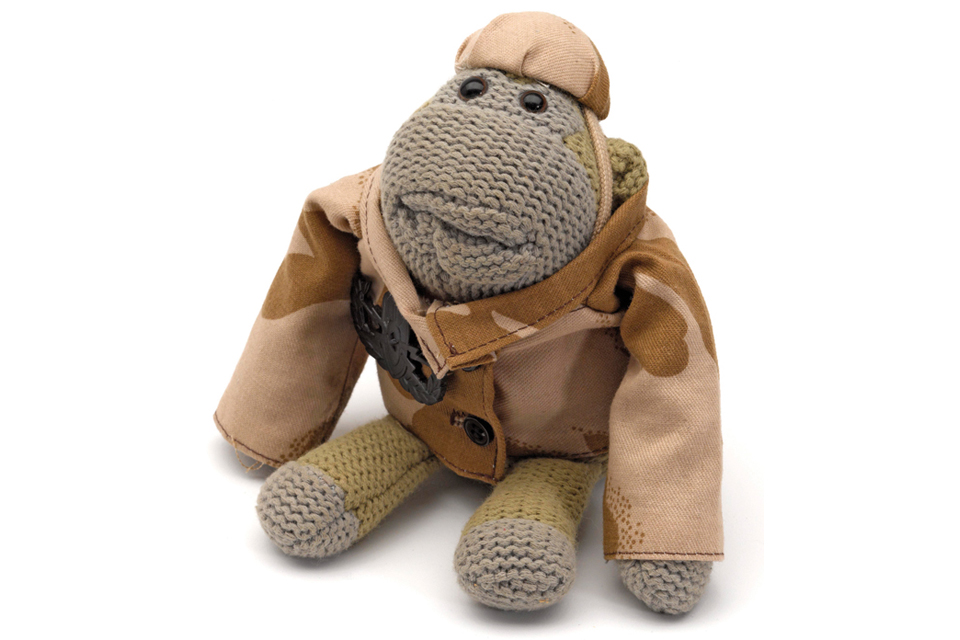 And then there is combat monkey. On loan from Corporal Leigh Charlton, who operates the explosive ordnance disposal team's remotely-controlled vehicles, combat monkey is a team mascot who has been on many deployments, earning respect, and his own badge, combat jacket and helmet, from both British and American troops.
Like many of the individuals who have played a central role in the exhibition, Corporal Charlton won't be able to attend the opening as he is on another tour of Afghanistan.
But this time he is in Camp Bastion, which is why combat monkey can continue his period of rest and recuperation at the museum:
These guys are amazing and inspiring," said Amy. "To think that they come through the most challenging experiences that a human being can face, deal with it, and then go out and do it again. That's pretty extraordinary.
Unseen Enemy runs until 31 March 2014 and entry is free.
This article is taken from the July 2013 edition of Defence Focus - the magazine for everyone in Defence.
Published 19 July 2013