Press release
Ian Cumming confirmed as first Chief Executive of Health Education England
Ian Cumming has been confirmed as the first Chief Executive of Health Education England (HEE).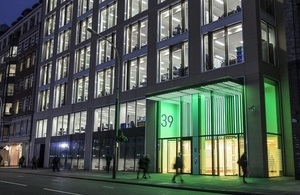 From its establishment on 28 June, HEE will provide national leadership to the new system of education and training in healthcare.  This new system will give employers greater responsibility and accountability for planning and developing the workforce, within a national framework that is professionally informed and underpinned by strong academic links.
Sir Keith Pearson, Chair of HEE, said:
"I am delighted to announce Ian Cumming as Chief Executive of Health Education England.  Ian has extensive experience as a leader in the NHS and will bring a compelling sense of vision and purpose to HEE."
Una O'Brien, Permanent Secretary, said:
"Ian Cumming brings a wealth of experience to this important role. HEE will need to establish itself quickly so it can take on its new responsibilities.  I am confident that Ian will lead the way to establish effective leadership and governance for the organisation and ensure early and successful relationships with key partners and stakeholders.
"I would like to thank Christine Outram for the leadership she has provided as the Senior Responsible Officer for setting up HEE.  Christine has played a key role in helping to shape plans for HEE in the preparatory phase before it is established as a Special Health Authority."
On his appointment, Ian Cumming said:
"We have a great opportunity to shape a future healthcare workforce that can improve healthcare outcomes, building services around the needs of patients and communities.  HEE will lead the new system to support healthcare providers and professionals as they identify the critical workforce challenges and ensure services have the right people with the right skills and behaviours, where and when they are needed.''
Currently, Ian Cumming is National Director for Quality at the Department of Health.  In recognition of the importance of this role he will continue to perform his duties for a short period whilst establishing HEE.
ends
Background
Ian is currently the National Director for Quality.  Following the clustering of the nine SHAs in September 2011, the NHS Chief Executive asked Ian to take on a new role taking responsibility for keeping the NHS in England focused on quality during transition.  Other recent roles include:
• Chief Executive, NHS West Midlands (May 2009 - Sept 2011)
• Chief Executive, North Lancashire Teaching Primary Care Trust (Sept 2006 - May 2009)
Published 19 June 2012