IAEA Director General Yukiya Amano meets the Foreign Secretary in London
On 19 October Yukiya Amano, the Director General of the International Atomic Energy Agency (IAEA), met the Foreign Secretary William Hague to discuss nuclear issues.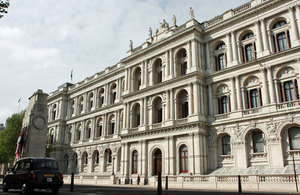 Their discussion included the latest developments on the Iranian nuclear file, civil nuclear matters and nuclear security.
The Foreign Secretary said:
"The threat of nuclear proliferation is one of the greatest challenges to global security and the IAEA plays a crucial role in reducing the threat, whilst at the same time helping countries develop safe civil nuclear programmes"
The Director General also held meetings with Alistair Burt, Minister for the Middle East, South Asia, Counter-Terrorism and Counter-Proliferation, Lord Howell, Minister of State for Commonwealth Affairs, Foreign & Commonwealth Office and Charles Hendry, Minister of State for Energy and Climate Change. Topics of discussion included the IAEA's Technical Cooperation Programme, the Non-Proliferation Treaty (NPT), nuclear security and the Middle East Weapons of Mass Destruction free zone.
The IAEA works with its Member States and multiple partners worldwide to promote safe, secure and peaceful nuclear technologies and its safeguards regime upholds the NPT.
The UK is a member of the IAEA Board and is fully supportive of the Agency's important work. We and other member states are working with Director General Amano and the Agency on a range of measures, including strengthening the NPT as mandated in the action plans agreed at the NPT Review Conference in May and ensuring the robust implementation of safeguards agreements in countries of concern.
Published 19 October 2010