IAEA Board of Governors meets in Vienna
The UK's Governor on the IAEA Board, Simon Smith, comments on the IAEA Director General's recent report on Iran, and on this week's Board of Governors meeting.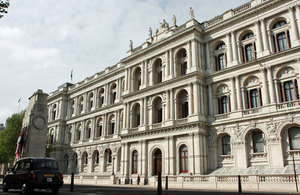 "The International Atomic Energy Agency's (IAEA) latest report on Iran reinforces the strong message that Iran continues to defy successive United Nations Security Council Resolutions, and is failing to co-operate fully with the IAEA in a number of significant areas," said Ambassador Smith after the IAEA's Board of Governors concluded its deliberations today.
Concern about Iran's continuing nuclear activities
"The Agency's report has made clear that Iran is continuing to enrich uranium, and to work on its heavy water related projects. This is in spite of the fact that repeated UN Security Council resolutions have mandated Iran to suspend these activities. The report also confirms that the Agency is making little or no progress with Iran in seeking answers to questions which would enable it to judge whether all of Iran's nuclear activities and material are relevant to peaceful, not military, uses," said Simon Smith.
He emphasised that the UK, alongside its international partners, remained committed to engaging Iran in a constructive dialogue to address these concerns. "But so far Iran has failed to respond to our repeated efforts to do so. Until it does, it will be impossible for the international community to have any confidence in its intentions."
Obstructive position towards IAEA inspectors
Ambassador Smith also highlighted the concerns expressed by the Agency in the report over Iran's objection to two IAEA inspectors. "The Director General paints a picture in his report that looks to me like a uniquely obstructive approach by Iran to the work of the Agency's safeguards inspectors."
In the following video blog, Simon Smith outlines the main issues discussed at this weeks Board of Governors:
Published 17 September 2010