World news story
Hurricane season can impact parts of Canada
The Atlantic hurricane season runs from June to November and parts of Atlantic Canada can be affected.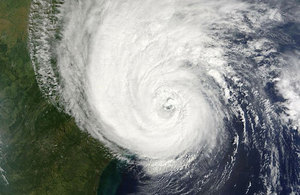 Although hurricanes rarely make direct landfall in Canada, the remnants of these powerful storms can still bring heavy rain, strong winds and pounding surf to the Atlantic coast of Canada. This region includes the popular tourist destinations of Nova Scotia, Prince Edward Island, New Brunswick, and Newfoundland and Labrador.
During major storms visitors should be extremely cautious near coastal regions as these areas can see high waves and damaging storm surge.
Severe weather conditions can also be felt further inland, resulting in power outages, downed trees, and localized flooding.
There are a number of things you can do to prepare yourself if you live in, or are planning to travel to, this region. They include:
giving family or friends the address and telephone number of where you are staying, and calling them to let them know your plans if a hurricane is forecast to affect the area you are in
staying updated on public weather alerts from Environment Canada
paying close attention to weather reports on local TV and radio stations
keeping important numbers handy such as family, and friends, airlines, tour operators, travel insurance providers and that of the British High Commission in Ottawa.
ensuring that you have access to supplies of food, water, radios, torches, first aid kit, etc.
following the Foreign & Commonwealth Office on social media for the latest updates to Canada travel advice.
The Public Safety Canada website also provides helpful information.
Useful links
Published 15 June 2015
Last updated 27 May 2016
+ show all updates
Added link for US Atlantic hurricane season information
First published.