Huntingdonshire flag flies at Department for Communities and Local Government
The flag representing the historic county of Huntingdonshire has been hoisted above the department's offices.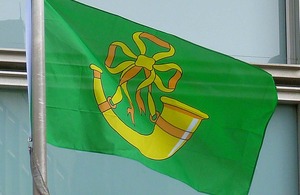 To celebrate the important place counties play in the nation's cultural heritage Secretary of State Eric Pickles has asked that English county standards be flown alongside the Union Flag outside DCLG's Eland House headquarters in Victoria.
Mr Pickles raised the first flag - for his adopted home county of Essex - in a ceremony also attended in September by celebrity astrologer and long-time English county campaigner Russell Grant.
Flags are being flown for a week at a time in alphabetical order or - in cases such as Cornwall and Yorkshire - to coincide with particular county days.
Eric Pickles said:
The Union Flag rightly has pride of place outside the department but I'm delighted it will now be flown alongside our traditional and ceremonial county flags.

England's counties continue to form an important part of our cultural and local identity in this country and many people remain deeply attached to their home county. This sense of pride and shared identity is 1 of the things that binds communities together and it's right that the government department responsible for communities and local government should be actively recognising the important role they play.
Rupert Barnes, the Vice-Chairman of The Huntingdonshire Society said:
Huntingdonshire has a great deal to celebrate. It is a county of matchless beauty and charm, of pretty villages, broad green fields and ancient towns dipping their feet in the quiet river. It is little known outside its borders but loved by its folk.

Oliver Cromwell, born this week in 1599, showed that a man of Huntingdonshire can, for good or ill, rise to the highest. Many other men and women of this county too have by endeavour made their mark on the nation or their own communities. Such men as Samuel Pepys, the Earl of Sandwich and Henry Royce were content with nothing but the very finest of their endeavours, coming perhaps from the best of the shires.

The spring flowers blooming on the meadows by the Great Ouse and along the verges of the great fields of the Great Fen in this time of rebirth remind us to appreciate our great little county.

We are delighted to see our county flag flying over the department this week.
Further information
The department is obliged to fly the European Union flag during Europe Week (week beginning 9 May) under Article 7(2) of EC Regulation 1828/2006.
The Huntingdonshire flag has been kindly loaned by The Huntingdonshire Society at no charge.
Photographs of the county flags will be added to the DCLG Flickr channel
Published 25 April 2011