Press release
Hundreds visit Public Health England's exhibition on PHE Harlow plans
PHE held a public exhibition 12 to 14 May, unveiling plans for a £400 million capital investment to create a public health science hub.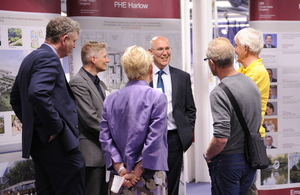 Public Health England (PHE) held its first public exhibition last week on Thursday, Friday and Saturday (12 to 14 May 2016), unveiling plans for a £400 million capital investment to create a public health science hub in Harlow.
More than 300 people visited the exhibition at Science Alive at Harlow Leisurezone where staff were on hand to outline PHE's plans and answer questions. Amongst those who attended were Harlow MP Robert Halfon, members of the Chamber of Commerce, the Enterprise Zone and the Harlow Civic Society as well as local residents, students, businesses and organisations.
The exhibition included information about PHE itself, the proposals for the vacant GSK site, timescales for the programme, artist impressions on what it could look like and highlighted the job, training and education opportunities it could provide for the town.
Programme Director, Dr Tim Harry said:
The support and interest shown by the Harlow community at the exhibition was extremely encouraging. We received valuable feedback from a variety of people that we will definitely be taking on board.

Everybody's feedback is important and welcomed, whether it's positive or about specific concerns people may have. PHE wants to build strong relationships with the Harlow community which will last for a very long time.
Students from Harlow College also attended the exhibition. 19 year old, level 3 BTEC student, Elizabeth Leport, studying an extended diploma in applied science said:
Having PHE move to Harlow would give me the opportunity to apply for an apprenticeship or even a potential job in the area I am currently studying. To be able to learn from leading scientists would be a great opportunity.
Feedback from the exhibition will be reviewed and used to help shape plans going forward. PHE will hold another public consultation towards the end of the year before applying for planning permission with Harlow Council.
All information from the exhibition, including an online feedback form is available online: www.gov.uk/phe/harlow.
Any community groups, organisations or businesses who would like PHE to come and discuss the plans can contact pheharlow@phe.gov.uk.
Background information
The exhibition was held on Thursday 12, Friday 13 and Saturday 14 May.

Public Health England exists to protect and improve the nation's health and wellbeing, and reduce health inequalities. It does this through world-class science, knowledge and intelligence, advocacy, partnerships and the delivery of specialist public health services. PHE is an operationally autonomous executive agency of the Department of Health. Follow us on Twitter: @PHE_uk and Facebook: www.facebook.com/PublicHealthEngland.

PHE submitted an Outline Business Case to Government in July 2014. An interim decision was taken in September 2015 to move the majority of PHE functions from Porton to Harlow. In November, the Government supported a further proposal to move PHE science facilities at Colindale to Harlow to create a single integrated campus.

PHE will now work to take the proposal to full planning.

It is hoped the science hub will be fully operational by 2024, with the first building work expected to start in 2019.
Public Health England press office
Published 19 May 2016