Hundreds of victims of revenge porn seek support from helpline
A new helpline dedicated to supporting victims of revenge porn has taken over 1800 calls in just six months.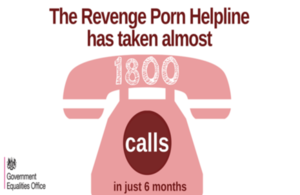 Dedicated revenge porn helpline has taken over 1800 calls in just six months

Helpline forms part of wider government measures to tackle revenge porn and toughen the law against it

Comes just weeks after the first prison sentences under new laws criminalising revenge pornography
The calls, which relate to over 280 individual cases, have been made since February when the government launched the helpline to help tackle the problem of people sharing intimate images online as a way of seeking revenge or ridiculing individuals.
The service – which is run by South West Grid for Learning – provides callers with information on legal help available and their right to have the images removed from websites.
The latest figures come just weeks after the first sentencing of offenders under a new revenge pornography offence – introduced by the government last year to toughen the law on this issue and provide real justice and protection for victims.
The new offence, in the Criminal Justice and Courts Act 2015, covers the sharing of images both online and offline and carries a maximum sentence of up to two years in prison. Criminal Justice Minister Mike Penning hopes the new offence will result in more victims coming forward to report cases.
This week, in response to a Channel 4 revenge porn documentary, the helpline received a record number of people calling for advice and support, with more calls taken in 48 hours than it normally takes in a week.
Secretary of State for Education and Minister for Women and Equalities, Nicky Morgan, said:
It is never acceptable to circulate intimate photos of an individual without their consent. But I want all those affected to know that the government is on their side.

This helpline is helping hundreds of people by signposting them to support and offering advice on how to remove this content. We have also brought in new laws to make revenge pornography illegal. But this is just the start and we must continue to tackle this despicable crime.
A breakdown of calls to the helpline since February shows that around 75 per cent seeking advice and support are female, with a number of cases being women posting pictures of their partner's ex-girlfriend.
Meanwhile, out of the 25 per cent of calls relating to men, approximately 40 per cent are from gay men, with approximately 50 per cent of all male cases involving bribery, or 'sextortion' – threatening to release sexual images as a form of blackmail
The helpline also liaises with law enforcement and internet companies to remove content where possible, and offers details of free legal advice. As well as this, it directs individuals to additional support services, such as Women's Aid, Stalking helpline or Relate, where necessary.
Laura Higgins, Online Safety Operations Manager, said:
Our service aims to provide a safe, non-judgemental first point of contact for victims. All our clients tell us how grateful they are to be able to talk to someone who understands what has happened to them.

Our interventions are much more than just a phone call, many of the cases that the helpline have dealt with are so complex and distressing that victims have had continued contact with the helpline to tackle the problem.

I am so proud of what we have achieved already but there are still many vulnerable victims who have not come forward. We hope to keep pressure on the dedicated sites which host this content, to make it a hostile environment for revenge porn.
This month magistrates have handed out the first prison sentences under the new offence for revenge pornography.
On Thursday 13 August, Sean Pinkney, 44, from Greater Manchester, was sentenced to five months in prison after posting a sexually explicit picture of an ex-girlfriend on social media.
On Tuesday 18 August, David Jones, 53, from Wallasey, was sentenced to four months in prison for posting sexual photographs of an ex-girlfriend online.
Cases that the helpline have dealt with:
A married man, recently bereaved, engaged in a sexual encounter with another man. He decided to call it off at the last minute but was told he had been covertly filmed while naked and the images would be posted online. The helpline supported the victim in engaging the police.
Several explicit images of a young woman were posted on hundreds of sites, and subsequently went viral across the world. The helpline provided emotional support for the victim and assisted in the removal of content, some takedowns were within minutes.
The helpline is available on 0845 6000 459 from 10.00am - 4.00pm, Monday to Friday, and messages left outside these hours will be returned. Emails can be sent at any time to help@revengepornhelpline.org.uk.
Notes to editors:
For further information, please contact the GEO press office on 0207 783 8300.

For further information from the helpline or for media bids, please contact Laura Higgins on 07899 905638 or laura.higgins@swgfl.org.uk.
Published 23 August 2015