Press release
Hundreds of overseas opportunities on offer for UK businesses as major new exporting initiative is launched in Gateshead
The government's most ambitious export initiative to date Exporting is GREAT launches in the North East.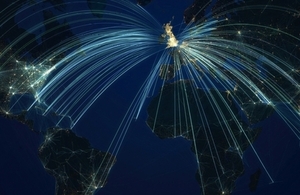 UK companies are to benefit from a unique new 5 year programme that will present real-time export opportunities that businesses can apply for online, in a move to get 100,000 additional companies exporting by 2020.
Launched today (9 November 2015) in Gateshead, Exporting is GREAT – part of the world-renowned GREAT campaign – will present live export opportunities to businesses, across a range of media outlets and digital channels. Hundreds of these export opportunities, with a potential total value of more than £300 million, will be hosted on a new platform www.exportingisgreat.gov.uk with around 1,000 more coming online each month.
Speaking today at Sage Gateshead, Minister for Trade and Investment, Lord Francis Maude, who has himself recently visited markets including Iran, South East Asia, China and Kazakhstan, said:
Travelling overseas in my capacity as Minister for Trade, I see first-hand the demand that exists for UK products and services, but many companies don't realise this demand exists. We are confident that through Exporting is GREAT; by raising awareness of and providing access to these opportunities, together with giving companies the practical advice and guidance they need, we will inspire and support thousands of new companies in the exciting new venture of selling overseas.

It's been great to hear about the export success stories from companies here in the North East, and I'm looking forward to visiting the rest of the UK and hearing similar stories from new exporters.
North East company Videre Global, which started business earlier this year, focuses predominately on providing solar LED street lights and home kits for areas with unreliable power supplies.
Videre Global has just signed a contract worth £1 million over the next 2 years to help develop a 100MW solar farm to power the city of Francistown, Botswana. In the next year the company expects to employ 4 new staff members in its Newcastle office.
Stephen Kelly, CEO of Sage, which is supporting Exporting is GREAT and provides tailored accounting products for exporters, said:
We're passionate about supporting businesses at every stage of their growth. Exporting is a significant step on the journey – one that many small and medium businesses don't feel they have the support or knowledge to take. Our customers tell us that awareness of the opportunities and more government and industry support would help them make the move, so we are thrilled to be supporting Exporting is GREAT.
Exporting is GREAT will provide advice and expertise to support businesses at every step on their exporting journey, from initial interest to selling in market. This will include a year-long roadshow that will travel the length and breadth of the UK, giving face-to-face assistance to potential exporters, using the latest technology to connect these businesses with live export opportunities.
Notes to editors
Exporting is GREAT is the government's most ambitious export campaign ever. It aims to inspire and support 100,000 additional UK exporters to sell their goods and services overseas by 2020. The campaign's mission is to turn the UK into the world's greatest exporting nation, capturing the imagination of the public, boosting business confidence and national pride and empowering more UK companies to go out and succeed in global markets. Every day in every country around the world, there is someone somewhere who wants or needs a UK product or service. The demand is out there
Online help is available via www.exportingisgreat.gov.uk. The platform is designed to engage, direct and support businesses that have responded to the campaign. Every user's data will be captured for relationship management (CRM) and evaluation purposes. From day one, potential exporters can register their interest in live trade opportunities, access support to export, find out more about Exporting is GREAT Week events and the Exporting is GREAT roadshow and sign up for our essential guide to exporting
Exporting is GREAT features high profile entrepreneurs, international business owners and export champions demonstrating live export opportunities and demand for UK products and services. The first phase of the campaign will run across the UK from 8 November 2015 to March 2016 and include TV, digital, radio, outdoor, and press advertising
The initiative is based on evidence which shows a significant barrier to businesses exporting is the belief that there isn't a market for their product overseas. Great Insights Business Segmentation research conducted by TNS, on behalf of BIS and UKTI, showed that across all non-exporters, over 70% believe that their product/service is not suitable for export
The initiative will benefit from significant support from 31 of the UK's leading businesses and business groups. All are backing the campaign to help raise awareness, as well as offering practical support; from increasing the supply of available trade opportunities to providing offers and discounted services to exporters. For launch Exporting is GREAT commercial partners are: Barclays Bank, British Airways, Bond Dickinson, British Chambers of Commerce, BT, CBI, Deloitte, DHL, EEF The manufacturers' association, EY, Federation of Small Businesses, Funding Circle, Grant Thornton, Google, Heathrow, HSBC Bank plc, ICAEW, IoD, Institute of Export, KPMG UK, Lloyds Bank, Microsoft, NatWest/Ulster Bank, PayPal, Royal Mail, Sage plc, Santander UK, Shell, The Entrepreneurs Network and Virgin Media Business
The potential total value of the live export opportunities available to businesses is £340 million over time. This figure is based on the average 2014 export opportunity value of £340,000 (source: UKTI Performance and Impact Monitoring Surveys) and an expected minimum of 1,000 live opportunities available at any one time after launch at www.exportingisgreat.gov.uk.
Published 9 November 2015