Hundreds of government websites closed
Significant steps have been taken in the drive to cut unnecessary spending and pave the way for a single government web domain.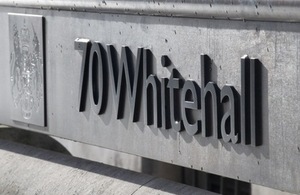 7 October 2011
A government report released today shows that in the past 12 months, significant steps have been taken in the drive to cut unnecessary spending and pave the way for a single government web domain.
Hundreds of government websites have been closed over the past year, the Cabinet Office revealed today. The Central Government Websites annual report reveals that over fifteen hundred government websites have now been closed since the rationalisation programme began. 444 websites are reported as open - compared to 820 last year. 
The closures are part of the government's programme to make sure that public services are moved online in a coherent, accessible way, whilst cutting unnecessary spending on multiple websites. 
Websites that have been closed include:
courtfunds.gov.uk
publicguardian.gov.uk
ips.gov.uk - Identity and Passport Service
hmcourts-service.gov.uk
hmprisons.gov.uk
This process has also led to savings across departments, such as the Department for Education which has closed three websites - Teachernet.gov.uk, Governornet.gov.uk, and Standards.gov.uk - as part of this process, saving over £1.7m. All the relevant content from these sites is still available on the Department for Education main site.
Minister for the Cabinet Office, Francis Maude, said: 
This announcement shows the significant progress that we're making in government digital services. We are cutting costs, duplications and contradictions to make government web services easier to use and cheaper for the taxpayer. 
This report shows the ambition and drive of this government in the digital arena."
This website rationalisation programme follows the report from lastminute.com founder and Race Online 2012 chief, Martha Lane Fox in November 2010, which was commissioned by the Minister for the Cabinet Office, Francis Maude. Her report found that the government publishes "millions of different pages on the web, via hundreds of different websites". The report found that this led to "significant duplication" and a "highly inconsistent" user experience.
The Cabinet Office is currently working on a prototype for a potential single government web domain, as recommended by Martha Lane Fox. A single government domain would host all main public information, building on the services delivered through Directgov, offering additional features and reducing the need for individual government websites. 
The Cabinet Office announced the development of a beta version of the single domain in August with a view to public testing in early 2012.
Departments have committed to close over 50% of the remaining websites. Overall only 134 websites have been given approval to be retained for the time being, just 16% of the 820 reported last year.
Notes to Editors 
This year's report includes more detail than the first annual review of government websites, published in 2010. It includes data on four times as many individual sites and includes more detail on non-department public bodies' sites than in the previous report. For this reason the 2010 and 2011 reports should not be directly compared. 
As part of the closure programme, public information content previously available on closed websites has been transferred to other appropriate websites.
Martha Lane Fox's review of government websites "Revolution not Evolution" was published in November 2010. 
For more information on the single government domain, visit the Cabinet Office Government Digital Service blog.
The costs for the three recently closed Department for Education websites cited refer to the last financial year for which they were open.
Published 7 October 2011