Human rights in Libya: The UK's statement to the UN Human Rights Council
The UK expressed concern about restrictions on freedom of expression and association in Libya, and in particular, reports of the arrest and detention of 20 journalists in the statement on 9 November.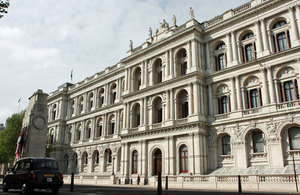 "The UK thanks the Libyan delegation for their response to some of our advance questions. We note Libya's stated commitment to human rights. We look forward to discussing the challenges Libya faces in meeting their international human rights obligations. We welcome visits by Amnesty International and Human Rights Watch to Libya and encourage Libya to consider further visits, and to issue a standing invitation to UN Special Procedures.
We remain seriously concerned about the enjoyment of the freedoms of expression and association in Libya and are concerned at the recent reports of detentions of journalists. We hope that the ongoing review of the Penal Code will include amendments to legislation on these issues as well as on privacy, the continued incidence of torture, and legal provisions for amputation, flogging and the death penalty. We would be grateful for further details of Libya's plans in this regard, including on the development of a new Press Law
We encourage further improvements in Libyan prison standards and welcome UK - Libyan cooperation in this field. We call for all detention facilities, including high security prisons such as Abu Selim, to be brought under the control of the General People's Committee for Justice.
While recognising ongoing negotiations with UNHCR, we hope that Libya will grant UNHCR official status and allow access to all migrants in need of international protection.
We have three recommendations:
That Libya publishes a list of all those killed in 1996 at Abu Selim prison, and provide their families with death certificates stating place, date and exact circumstances of death.

That Libya commutes all existing death sentences and establishes a moratorium on the use of the death penalty as a step towards its abolition, as declared in the Great Green Charter of Human Rights in the Jamahiriyan Era.
That Libya investigates, in line with international standards, all allegations of enforced disappearance, torture and ill-treatment committed by security forces, bringing perpetrators to justice, and ratifies the OPCAT." The UK also submitted a list of advance questions to the Human Rights Council raising concerns about reported disappearances in Libya, including the case of Jaballa Matar, who disappeared from his home in Cairo, Egypt in 1990.
The Foreign Office issued a statement on Mr Matar's case on 9 November:
"The family of Jaballa Matar, who has been missing since 1990, still do not know what has happened to him, despite his son, Hisham's continuing efforts to find out the truth. They have this Government's full support.
There have been credible reports that Jaballa Matar is imprisoned in Libya. We urge the Libyan authorities to answer Hisham's appeals for information about the fate of his father. Providing Hisham and his family with the information he has been searching for would be a demonstration of Libya's commitment to human rights following its recent election to the UN Human Rights Council."
Published 9 November 2010