Human Rights Council agrees to Special Rapporteur for Iran
Foreign Secretary William Hague welcomed the Human Rights Council's decision to establish a Special Rapporteur for Iran.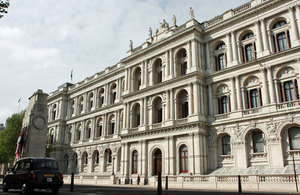 "I welcome today's significant decision of the UN Human Rights Council to establish a Special Rapporteur for Iran. Over the past 18 months, the international community has witnessed an unacceptable deterioration in the human rights situation in Iran. Since the 2009 elections, the Iranian authorities have systematically sought to silence all dissenting voices, through detaining and harassing human rights activists, lawyers, journalists and most recently opposition leaders Mousavi and Karroubi.
Today's resolution further demonstrates how appalled the whole of the international community is by these abuses. The UK has worked hard with other countries across the world to ensure that human rights violations in Iran do not go unrecognised. While Iranians seeking their rights are gradually being silenced, the Special Rapporteur will ensure that human rights abuses in Iran are well-documented and internationally condemned.
We hope that the appointment of this Rapporteur will provide encouragement to the many Iranians who bravely continue to speak up for their rights and the rights of others. We urge the Government of Iran to co-operate with the Special Rapporteur and to take urgent action to remedy these many shocking abuses."
Published 25 March 2011